Gabriella Mead remembers methamphetamine coming into her life and her hometown of Yorkshire seemingly out of nowhere in late 2017.
"You never heard of it," she said. "Then with a snap of a finger it was everywhere."
Mead, 36, found herself regularly snorting meth — which is both cheaper and lasts longer than fellow stimulant cocaine — amidst a group of amateur chemists easily able to produce it for her. She noted many of the needed materials, from cold medicine to household cleaning products, can be bought at Walmart.
Her abuse culminated when she was pulled over this summer in Arcade for driving an uninspected Jeep that was found to have meth and meth-making equipment inside.
Now, Mead resides at a Council on Addiction Recovery Services Inc. facility in Olean as part of drug treatment court.
"I'm grateful that (the arrest) happened because if not I wouldn't be sober today," she said.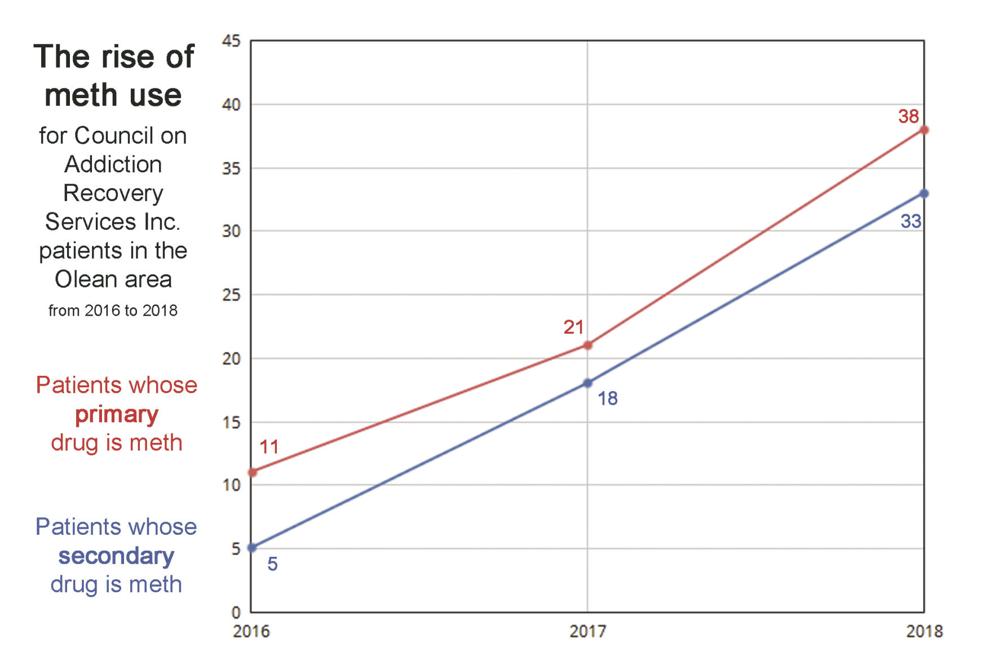 As police have discovered a meth lab in Cattaraugus County seemingly every few weeks throughout the last calendar year, local addiction treatment providers like CAReS, whose biggest referral source is the court system, have also seen an uptick in patients addicted to meth.
CAReS, which has outpatient centers and supportive living facilities throughout the county, reports that the number of patients whose primary drug is meth has more than tripled over the last two years — from just 11 in 2016 to 38 in 2018. There was an even greater increase in patients whose secondary drug is meth — from just five in 2016 to 33 in 2018.
Overall, the number of meth users more than quadrupled from 16 to 71.
"Within the last year it has definitely spiked," said CAReS Clinical Director Jené Gardner.
While meth users still represent a small percentage of CAReS' approximately 800 patients, most of whom are treated for alcoholism, the growing rates are concerning for officials.
CAReS is exploring ways to further treat meth addiction, whether it be providing staff with more training or advocating for medication-assisted treatment, which is not currently available for meth.
"I would definitely hope that there would be more funding, more knowledge and more research, anything," Gardner said. "So if we're going to see this over the next year, then maybe better trainings, better medications, anything like that would kind of help us help those that we serve."
Meth defendants become meth patients
Cattaraugus County had 14 clandestine meth lab incidents in 2016 and another 14 in 2017, according to New York State Police.
There were already 17 such incidents in just the first three quarters of 2018.
Most of the labs have been found right in the city of Olean. Since November 2017, authorities have found meth-making materials in 10 city residences and charged a total of 23 people in connection.
Those drug offenders often end up at CAReS, as 96 percent of CAReS patients have been mandated into the program by some entity, whether it be drug treatment court, probation, child protective services or social services.
"Law enforcement sees it before us," said Michael Prutsman, CAReS executive director. "Quite a lot of times when we get referrals, they're referrals related to prospective clients' interaction with law enforcement."
After spending two months in Wyoming County Jail after her August arrest, Mead pleaded guilty to a felony meth-making charge, but with the option of withdrawing the plea for a lesser charger if she completes probation and drug treatment court.
However, she then returned to Yorkshire and quickly used again.
"They say insanity is doing the exact same thing over and over again and expecting a different result," she said.
This time, the judge sent her to spend 28 days at TLC Health Network's inpatient substance abuse treatment facility in Irving, and then immediately spend several months at CAReS' supportive living facility.
While at first skeptical of inpatient rehab, Mead said her time at TLC being around others striving for recovery and building up each other's self-esteem made her realize "the error of (her) ways."
"You go through the 12-step program and you hear people say, 'I'm here because it gets old,'" she said. "The whole way of life gets so old. You hate having to wake up and (think), 'How am I going to get my drug of choice again?'"
Gardner said studies show mandated patients often do better than self-referred patients because of the added level of accountability.
"Everybody's rock bottom, so to speak, is different," Gardner said. "So sometimes it takes an arrest or a sentencing to kind of help give them that wake-up call to then say, 'OK, my addiction has taken over more of my life than I had intended.'"
Meth treatment includes therapy, but no medication
When a user of meth or any drug first walks through CAReS, they'll generally be scheduled to undergo individual meetings with a counselor once a week, as well as group therapy sessions several times a week.
The focus of those meetings is cognitive behavioral therapy, or as Gardner says, "changing the thought to then change the behavior."
"We also use a lot of motivational interviewing with them, as well as solution-focused and strength-focused type of therapies. We also focus on rational emotive behavior therapies," she said. "So all of those therapies combined have been proven to be very effective working in this population of people."
Mead, who began the CAReS program around early December after getting out of TLC, said she has an hour-long meeting with a counselor once a week and then attends four different group meetings. She's particularly fond of her art group.
"We drew what we thought our eyes looked like when we were addicted, and on the other side we drew what we thought our eyes looked like now," she said. "Some people drew their eyes bloodshot or pupils dilated. Now everyone's eyes are clear."
CAReS also recently developed a recovery peer advocate program, which connects patients with former patients now in sustained recovery.
"I kind of bridge the gap between the clinical and community," said Gary Milliman, a CAReS recovery coach who was a CAReS patient himself a couple years ago for an opioid addiction. "I can connect people to recovery resources in the community. If they want someone to go to court with them maybe, or go help them with (social services) paperwork or things like that — it's really a life coach, but geared toward alcohol and drug issues."
While CAReS can provide meth users with therapy and a recovery coach, it cannot help them via prescription drugs.
Medication-assisted treatment drugs like Suboxone and Vivitrol can help opioid users fight off cravings and lessen the effects of withdrawal, but no such drug has been approved by the U.S. Food and Drug Administration for meth users.
"I believe there are current drugs that are in the works for research that the government has just not approved at this particular time," said Cattaraugus County Public Health Director Dr. Kevin Watkins. "We could really use something to that effect, but unfortunately it's still in the works."
However, Watkins noted drugs can be prescribed to help meth users with some of the symptoms of withdrawal, like anxiety, depression and fatigue.
Meth rise may be tied to opioid crisis
The increase in meth use comes as CAReS is seeing use of heroin and other opioids stabilize, if not decrease.
The number of CAReS patients using heroin as a primary or secondary drug was cut by more than half — 102 to 45 — from 2016 to 2018, while the number using other opioids mildly increased from 191 to 215 in that time.
CAReS officials fear the rise of meth is directly tied to the opioid crisis of the last few years, as the rash of opioid overdose deaths, often linked to heroin laced with powerful opioid Fentanyl, may have users seeing meth as a safer alternative to heroin.
While meth doesn't present the same threat of overdose, it does come with its own risks. In addition to the volatile production process that can cause fires and even explosions, meth use also presents long-term health problems like heart attack, stroke, dental issues and even psychosis.
"There's less risk of overdose, but it's still deadly." Prutsman said.
Gardner also worries that some users are cross-addicted to meth and opioids. She said some opioid users on medication-assisted treatment, which can lessen the effects of taking opioids, may seek out meth, as well as cocaine, "to feel that effect of being high again."
CAReS is also seeing an equally troubling increase in cocaine use. Patients using cocaine as their primary drug jumped from 13 to 48 between 2016 and 2018. Those using cocaine as a secondary drug increased from 48 to 84 in that time.
Mead said her meth use was connected to heroin in another way: The father of her children died of a heroin overdose in November 2017.
"When that happened, I didn't want to deal with the grief, and meth was available," she said. "I got clean and all the sudden it felt like (his death) had just happened because I hadn't dealt with it. You're escaping your problems, because isn't it easier to escape them than have to deal with it?"
County officials turning attention to meth
The Cattaraugus County Heroin/Opioid Task Force has recently created a methamphetamine subcommittee.
Watkins, who co-chairs the task force, said the subcommittee is examining the adverse effects of meth labs, from leftover containers to residue contaminating the walls, floors and furniture of homes.
Through data like CAReS patients, arrests and social services complaints, the subcommittee is also trying to get a better sense of the number of people using meth in the county.
Watkins noted it's more difficult to do that for meth than it is for heroin since meth does not lead to as many overdose deaths and emergency room visits.
"Those are things we will continue to work on as a committee as we try to deal with the methamphetamine rise in our community, and we will continue to be proactive and try to make our residents aware of it and the danger of it," he said.
Mead had been staying at the Genesis House women and families shelter in Olean for the last month while attending CAReS meetings and waiting for a bed to open at the CAReS supportive living facility.
A spot finally opened and she moved in Friday.
Mead said while she could chose to focus on the negativity of her situation, like the fact she's not with her three children, she's "appreciating (her) journey right now."
"You can say, 'OK, I'm going to do (treatment) because my ex who passed away, it was his dream for us to get sober for our children. I could say I'm going to do it for him because he's not able. I can say I'm going to do it for my kids because I love them," she said. "But in the end, you really have to do it for yourself because I can't be there for everybody else if I'm not good."