Saad Mirza is the kind of student any school dreams of graduating.
He took advantage of nearly every opportunity at the Olean City School District — the second-largest district in rural Cattaraugus County with about 2,000 students — to get accepted into Princeton University, where he now studies aerospace engineering.
He took enough college-credit classes to earn an associate's degree in addition to a high school diploma, and played violin in the county's only school orchestra.
The school didn't have a rocket and space balloon club, so the Class of 2017 salutatorian started one.
Those are opportunities he wouldn't have had at his home district, the neighboring, 400-student Hinsdale Central School District.
"I'm sure Hinsdale is a great school," said Mirza, who used a nonresident tuition program to attend Olean, "but I really wanted a little bit more opportunities."
Hinsdale and other districts in the adjoining Western New York counties of Cattaraugus and Allegany often struggle to give their students the programs they need in the face of shrinking enrollments and a declining tax base.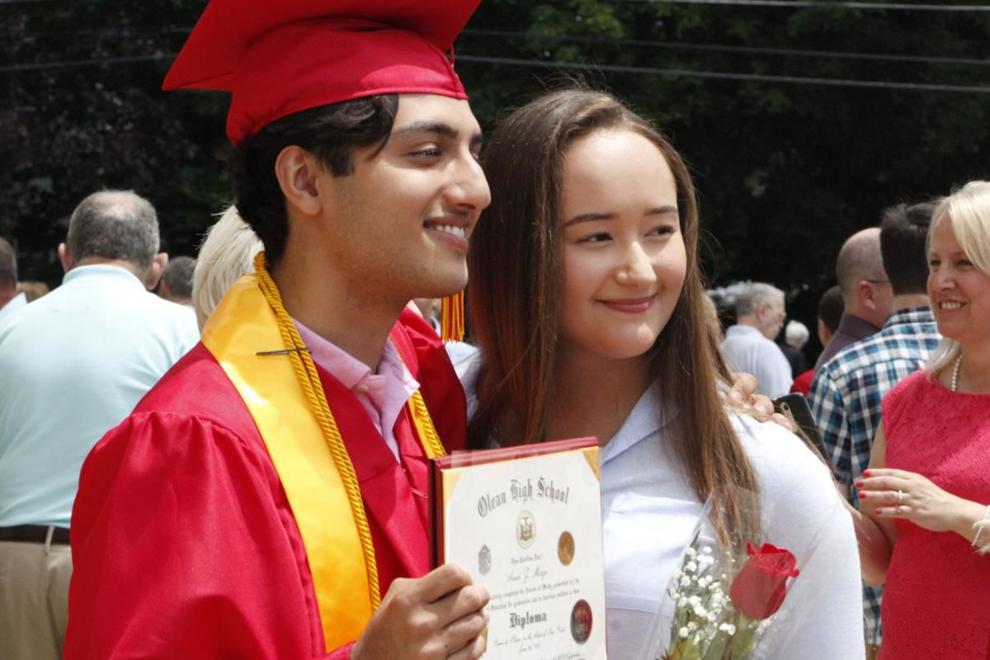 The two-county area's 24 school districts have lost more than 14 percent of their students over the last decade, which means they get high per-pupil state aid — but the total is just not enough. Taxpayers can only afford to pay for less than a quarter of their budgets.
That's a scenario that plays out in many of New York's rural school districts, which account for roughly 300 of the more than 700 districts statewide.
"They don't have any money and they don't have any kids," said Dr. Alan Pole, a retired superintendent who's a consultant to districts across the state, including local ones. "So what's left for the kids in some of these school districts is a real lack of opportunity for their high school careers and to be competitive in college."
One measure of opportunity is whether high schools offer Advanced Placement courses or International Baccalaureate diploma courses, which allow students to earn college credit.
But New York's rural schools are the least likely to offer these courses.
Education Trust-New York, a nonprofit that advocates for low-income students, found that poor rural districts offered AP and IB courses less often than both wealthy districts and poor urban and suburban ones, in a recent study of the 2016-17 school year.
That held true for Cattaraugus and Allegany counties, where nearly a third of districts offered no AP or IB courses — compared to just 3 percent of wealthy districts, 13 percent of poor urban and suburban districts and 17 percent of districts statewide.
When it came to offering at least six AP or IB courses, just 10 percent of local districts did, compared to 91 percent of wealthy districts, 58 percent of the poor urban and suburban districts and 35 percent of all districts.
Even Olean, which offered Mirza the chance for credit through local colleges, only offered one AP, which Mirza admits "sort of left me behind a little bit" when he got to college.
"A kid in Long Island can take 20 AP classes, whereas a kid in a rural area is not going to have that," said Olean Superintendent Rick Moore. "A kid from Long Island has all these options and when they go to apply for colleges, the college is going to take them because they've had all these opportunities that kids in Western New York or like the North Country don't get."
The state's 37 Boards of Cooperative Educational Services provide some advanced programs at their centers and via distance learning for rural students, but even BOCES officials say it's not always enough.
"There are some experiential components that we're never going to be able to match," said former Cattaraugus-Allegany BOCES Superintendent Lynda Quick, who is now a superintendent in Central New York. "We'll never duplicate what some of the wealthy areas of the state can do."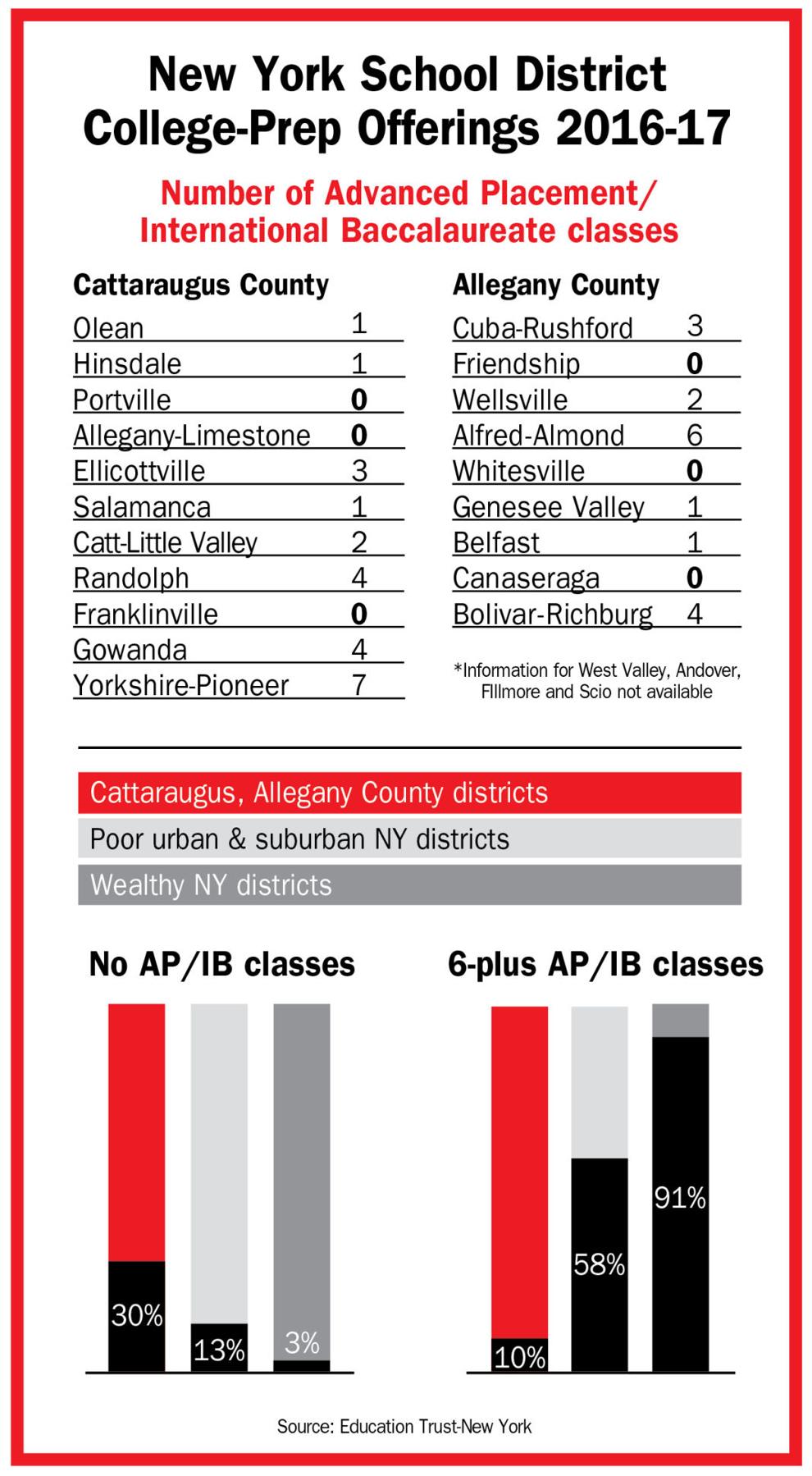 In its plan under the federal Every Student Succeeds Act, New York says it will spend part of its $1.6 billion in federal aid to help rural districts increase teacher training and courses in STEM (science, technology, engineering and math), art and music.
"Above all, our ESSA plan emphasizes the importance of fostering equity in education for all of (New York's) students," said a New York State Education Department spokesperson. "And one of the most important ways we do this (is) by incentivizing districts to provide opportunities to all high school students to engage in advanced coursework that is often unavailable in smaller, rural school districts."
Yet some experts fear that rural school issues get overlooked in favor of equally troubling urban school issues. Traditionally high rural graduation rates and traditionally low urban graduation rates give state officials "leeway to ignore" rural districts, said David Little, executive director of the Rural School Association of New York State.
Cattaraugus and Allegany counties' 2017 graduation rate was in the mid-80s, while the Buffalo City School District had a rate in the low 60s, yet fewer local grads planned to go to college.
"The fact of the matter is that the problems are virtually identical and they're not seeing it," Little said. "Whether you fail to graduate from high school or you graduate from high school with a diploma that doesn't allow you to do anything with it, it's exactly the same result."
The needs of rural districts go beyond high school courses. Cattaraugus and Allegany counties' students actually scored at rates above the state average on the majority of 2017 high school Regents exams.
The topic of merging school districts has cropped up locally as a possible solution to some rural schools' issues. In this companion story to Part I, we discuss the consequences of mergers and how those consequences have affected public opinion.
Yet, local districts lag behind the state averages of 40 percent proficient in grades 3-8 English language arts and math assessments.
Little called rural educators "masterminds" in finding ways to provide opportunities they normally shouldn't be able to, but said they need help.
"The state needs to find out what's happening educationally in our rural schools," Little said, "because it's a crisis that's being ignored."
Communities that struggle to afford their schools
Local property taxes pay for less than a quarter of the school costs in Cattaraugus and Allegany counties, compared to about two-thirds in wealthy districts and more than half statewide.
That's largely because property values in the area are low, leaving property owners with some of the highest median property tax rates in the state, according to an Empire Center analysis.
It's no wonder that voters in recent years rejected school projects that would have hiked their property taxes.
Last year, Hinsdale proposed a nearly $7 million, mostly state-subsidized capital project that included building a new, regulation-sized soccer field with a six-lane track in hopes of attracting students.
"If you build it, they will come," Hinsdale Superintendent Larry Ljungberg told the Olean Times Herald last year.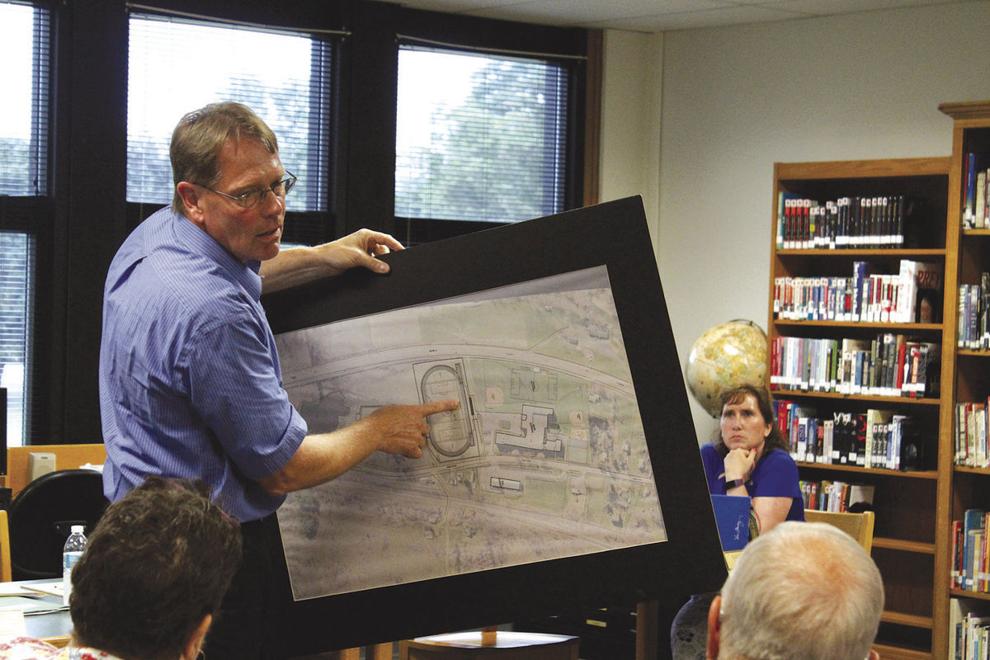 But residents, who faced a tax hike of $70 per $100,000 in assessed valuation, overwhelmingly voted it down in April 2017. They approved the project six months later, but only after the district nixed the track and the tax increase.
"It's nice to be able to give the kids the opportunity — because they need that — but what's the cost going to be for the few that there are?" Hinsdale resident Pam Nolder said outside the voting booth, summing up the opposition.
Voters voiced similar concerns about 15 miles north in the Franklinville Central School District where enrollment has dropped nearly 24 percent over the last decade. In May voters struck down a $5 million capital project to convert athletic fields to turf, which would have hiked taxes 1 percent.
These struggles are common in poor, rural areas, particularly aging ones, according to Dr. Craig Howley, a retired Ohio University professor who specializes in rural education. More than 14 percent of residents in Cattaraugus County and 18 percent in Allegany County live in poverty. The counties are mostly white with more than 18 percent 65 and over, according to the U.S. Census Bureau.
"The grandparent generation is not typically happy to devote their limited income to tax increases," Howley said.
Because local support is so low, two-thirds of local school spending is covered by state aid.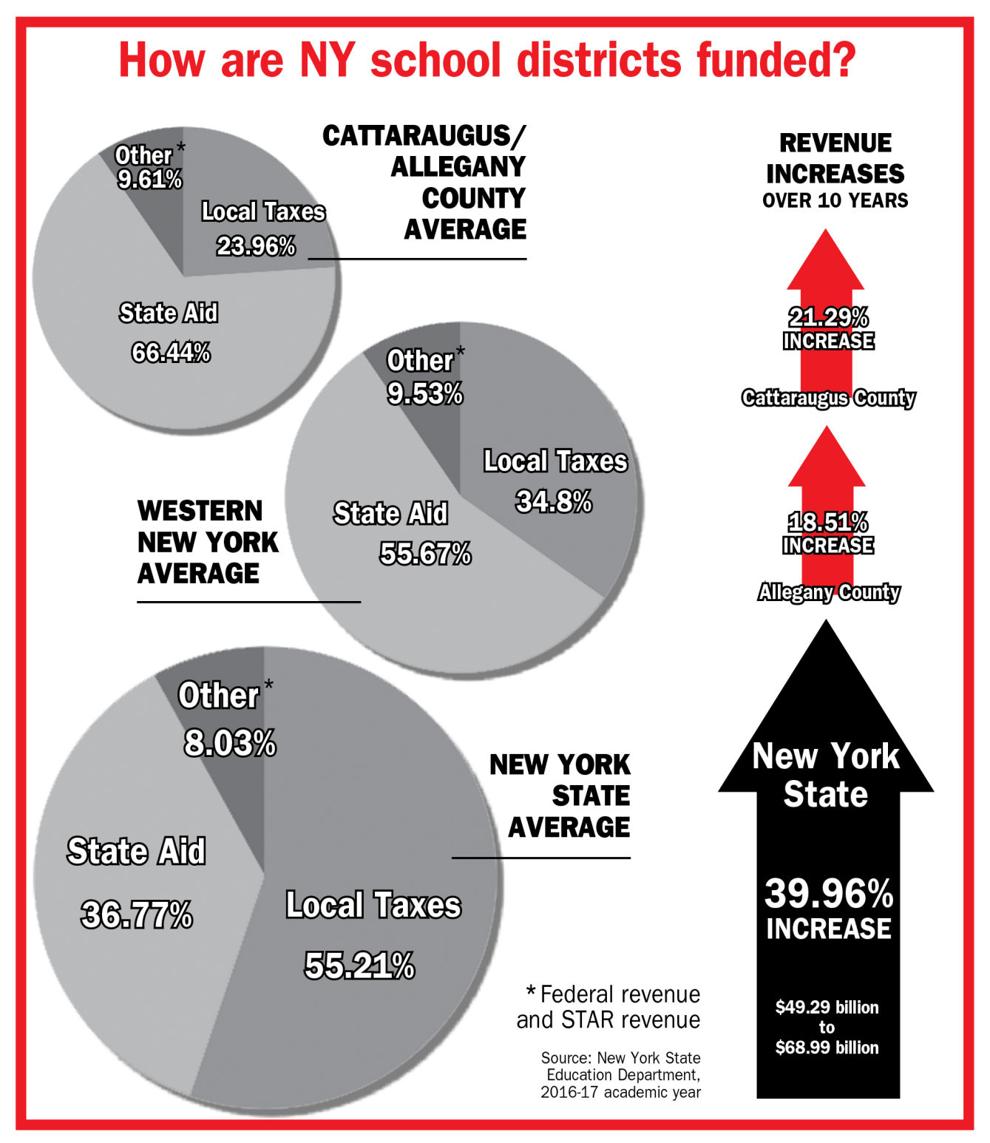 The result is that local school districts spend an average of $24,000 per student, higher than the $22,366 state average, which is the highest in the nation and nearly double the national average.
But, because most local districts have so few students, they end up with inadequate funding to support their schools.
"In some of the more rural districts it's gotten to the point where there's so few students — even though they're getting a very high amount per pupil in state aid — they don't have the critical mass to be able to afford electives," said state Sen. Catharine Young, whose 57th Senate District includes Cattaraugus and Allegany counties.
Some say the state needs to change its complex distribution formula for Foundation Aid — which makes up most of state aid and was enacted in 2007 after a Campaign For Fiscal Equity lawsuit called for a "sound, basic education" for all New York students.
"Foundation Aid was supposed to equal the playing field," said Beverly Ouderkirk, a member of state Education Department Board of Regents and a retired rural superintendent. "Well, it hasn't panned out quite the way we had hoped."
Three-fourths of school districts in Cattaraugus and Allegany counties had fewer than 1,000 students this past school year. Nine districts had fewer than 500 students, and eight of those districts graduated fewer than 30 students.
Local districts' 14 percent enrollment decline the last decade was on par with the loss in Upstate New York. But a third of the local districts lost more than 20 percent.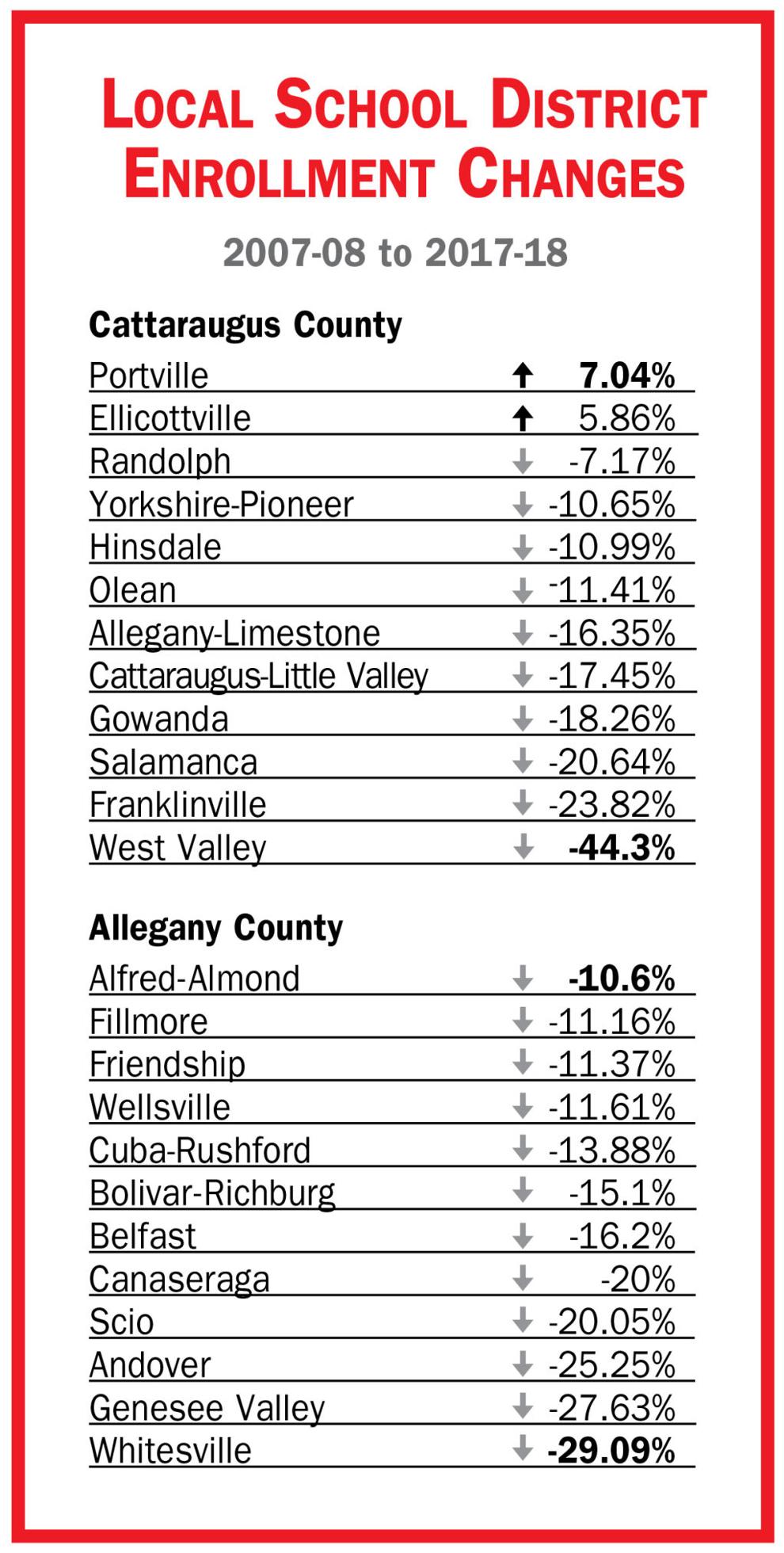 The smallest were the hardest hit. The Whitesville Central School District in Allegany County lost just over 29 percent of its students, while the West Valley Central School District in Cattaraugus County lost more than 44 percent. Both had just roughly 200 students last school year.
"The biggest threat to rural schools is enrollment," said Moore, whose Olean district lost more than 11 percent of its students.
There's no clear consensus on the optimal school district size, but Superintendent Tom Simon, whose Portville Central School District in Cattaraugus County has about 970 students, said "every (small) school in America is trying to get about a thousand kids in their building."
"That number has always been thought in the education business as a key number in terms of your ability to offer opportunities for kids and keep things economical," he said.
Some assume fewer students mean fewer costs, but that's not always the case.
"You still got to have buses, you still have to heat the building," Moore said. "You got to do all these things even though you only have (a small) amount of kids."
Luke Wenke graduated with a Regents diploma in 2010 from the Salamanca City Central School District, an 1,100-student district in Cattaraugus County.
He said he met all the other requirements for an advanced Regents diploma — the extra math classes, an extra year of French — but couldn't take an extra science course because only one physics class was offered his senior year.
"You could only have so many people in a class and they went alphabetical," Wenke said. "So the guy with the last name 'W' couldn't take physics."
Education Trust-New York found poor rural districts statewide lagged behind in upper-level math and science courses, as 19 percent didn't offer calculus and 13 percent didn't offer physics.
The numbers were lower in Cattaraugus and Allegany counties: 25 percent did not offer calculus and 20 percent did not offer physics, including Salamanca in 2016-17.
Salamanca Superintendent Robert Breidenstein said that year, the course was offered via distance learning because the school didn't have a certified physics teacher, but one has since been added.
He also said the district has five AP classes "coming on line this year" as it awaits approval from the College Board, the nonprofit that oversees the curriculum.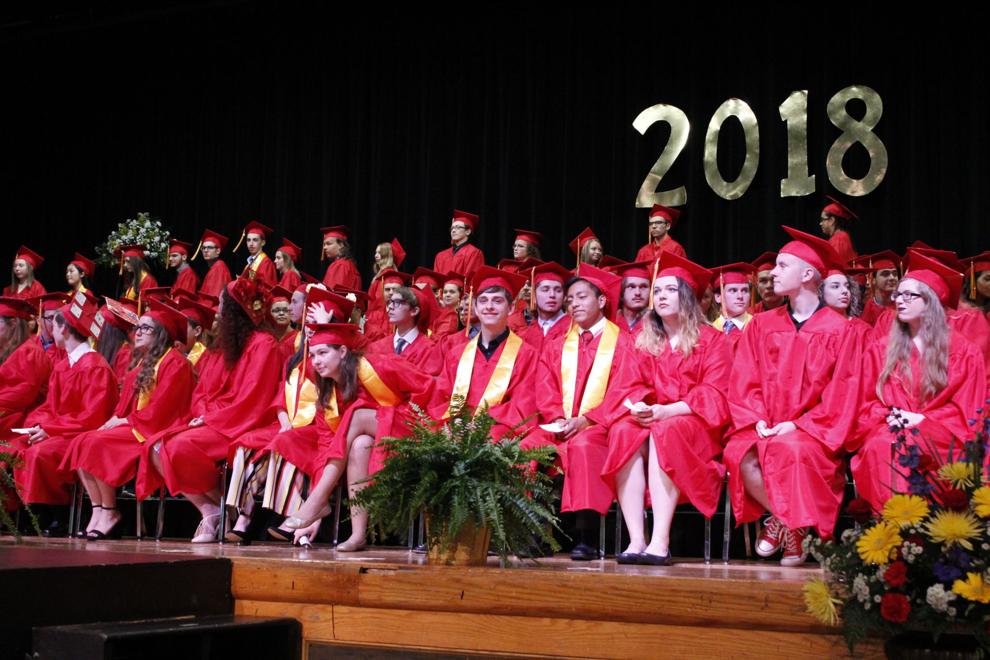 Education Trust-New York noted many courses make up a rich curriculum, but it considers physics and AP and IB courses "gatekeeper courses" that allow students to advance to even higher courses and develop critical skills.
Many local school districts instead offer dual enrollment courses through agreements with local colleges. There's a national debate over which is best.
Some prefer dual enrollment because students earn college credit based on their work, while AP requires students to score 3 or higher on an exam to get credit.  
Moore said AP is "the gold standard" of college prep classes, and the district will soon pay for teachers to get AP-certified so Olean can offer more.
Training on-staff teachers is one of the Education Trust-New York recommendations to expand the pool of teachers to teach AP courses. Some local districts have seen a shortage of certified teachers to cover required courses, let alone advanced classes like AP.
Elementary teacher Andrew Bogey said he competed with about 100 applicants to get his job at the Bolivar-Richburg Central School District in Allegany County 13 years ago, but "now we're only getting a handful of applicants" for most positions.
While Princeton didn't accept any of Mirza's dual enrollment credits, he feels earning so many of them helped him stand out as an applicant — perhaps as much as being a rural student did.
He laments meeting only a few others from rural high schools at Princeton.
"It's sort of a shame," he said. "I know there's lots of talent in our area and in rural school districts, and it's underutilized."
Helping rural students go to college
On a recent October morning, Olean High School marched its Class of 2019 down the street to Jamestown Community College's Cattaraugus County Campus. The mission: take the 140 seniors through the computer lab to apply to the college and to nearby St. Bonaventure University.
The exercise was aimed at students who might otherwise not apply to college. Even students planning to work after high school are often encouraged to get some community college training.
"I think a lot of kids think, 'I don't think I can do that,'" Moore said. "We're giving them the idea: You can do this."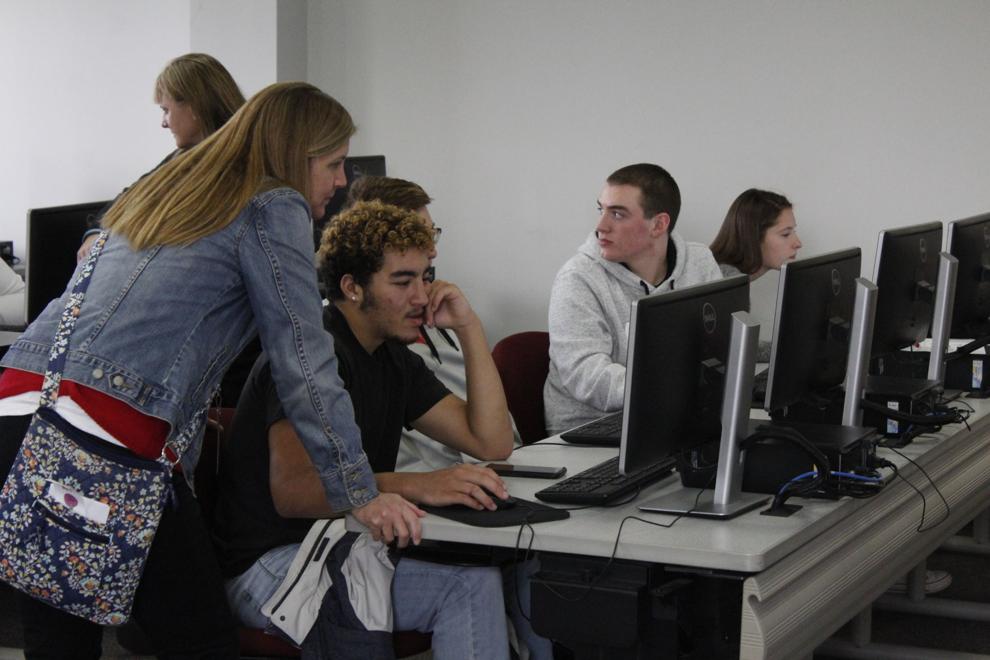 While local seniors graduated from high school at rates above the state average in 2017, they planned to go to college at a rate below the average: 72 percent of graduates in Cattaraugus County and 69 percent in Allegany County compared to 78 percent statewide.
It's not just local students who go to college less often — rural students nationwide are the least likely to attend.
Nationally, 59 percent of 2015 rural high school graduates attended college, compared to 62 percent of urban and 67 percent of suburban students, according to the National Education Clearinghouse, a research organization. The study also found rural students were the least likely group to return for their second year.
Little, whose organization also conducts research on rural schools, said that's partly because of the lack of advanced courses. Rural students often enter college bogged down with intro courses and even non-credit remedial classes, which assist underprepared students.
More than two-thirds of all community college students and 40 percent of all four-year college students take at least one remedial class, according to the U.S. Education Department.
Little said these students often drop out and "in many cases come back home and take unskilled labor positions, or they leave to go someplace where they can have a higher wage scale."
Wenke, who didn't earn any college credit in high school, attended JCC for more than a year but never finished his associate's degree in music. Once an aspiring high school band teacher, he stopped going partly out of frustration with unrelated coursework.
"Most of my music experience at JCC was taking all the general ed classes that I could have taken in high school," he said.
Now 26 and living in Olean, Wenke delivers pizzas and tunes pianos. He occasionally substitute teaches at local schools, including Salamanca, but no longer wants to be a band teacher. He's trying to get his real estate license.
Wenke said he'd go back to college only if he desired a career that requires a degree.
"If I see an actual end goal, then why not?" he said.
Simon, Portville's superintendent, hopes the state will provide rural districts with not just the resources, but the flexibility to provide more opportunities. He said it's for the benefit of not just students' post-grad lives, but for the benefit of rural communities.
"If we don't prepare our kids in really eclectic ways where they're prepared for the future," Simon said, "then we're going to miss those opportunities for when a kid in Portville could start the next Amazon."
(This story was done in collaboration with City Editor Danielle Gamble and Rose Ciotta of the Investigative Editing Corps. For more about how this story was reported, click here.)