ALBANY (TNS) — Republican lawmakers pressed their Democratic colleagues on spending, debt and public safety Thursday as the Senate and Assembly approved their one-house budget resolutions.
Democrats defended their fiscal priorities and touted investments in social services, education and environmental initiatives as negotiations with Gov. Hochul get underway with the state's budget deadline just two weeks away.
Sen. George Borrello, R-Sunset Bay, blasted the "One-House Budget Resolution" that passed the Senate on a party line.
"If we needed further proof that the Senate's Democratic Majority doesn't care about the concerns of everyday New Yorkers, we received it today," Borrello said in a prepared statement. "Poll after poll have shown residents' top concerns to be rising crime and the state's lack of affordability."
Sen. Tom O'Mara, R-Big Flats, grilled Democrats about plans to reduce rainy day funds and increase spending given the uncertain economic outlook in coming years, the New York Daily News reported.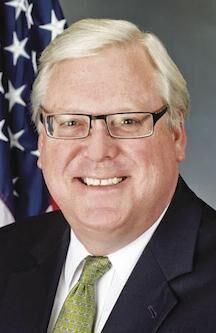 "Certainly my perspective, and I think those on my side of the aisle here, being generally more conservative fiscally, is that it would be wiser and safer ... to protect those reserves rather than increasing spending at the percentage we're talking about," O'Mara said during the floor debates Thursday.
Democrats, who maintain veto-proof majorities in both the Senate and Assembly, have put forth budget plans that would increase spending over Hochul's initial $227 billion executive budget proposal.
The Assembly plan would increase the price tag by $5 billion and the Senate proposal, which includes more policy items, would add a total of $9 billion on top of the governor's blueprint.
Sen. Liz Krueger, D-Manhattan, the chair of the Senate Finance Committee, countered O'Mara.
"Research shows that governments who actually invest in spending during economic downturns actually do better in turning things around for themselves as they come out of the bad times," Krueger said.
Republicans also pushed back on Democrats' plan to increase taxes on the state's wealthiest residents, arguing that it could send deep-pocketed New Yorkers fleeing to other states. Krueger noted that the state gained more millionaires in recent years despite raising taxes on top earners in 2019.
A large part of Thursday's debate centered around Democrats' rejection of Hochul's calls to once again revisit the state's bail laws, something that Republicans have pushed for in recent years.
Democratic leaders have accused Republicans and other opponents of fear-mongering around the issue as the GOP has repeatedly linked the state's 2019 bail reforms to rising crime.
Hochul wants to amend the statute to remove the "least restrictive" standard meant to ensure a defendant returns to court, arguing that the measure conflicts with other elements in the law and has led to inconsistencies in how and when judges set bail.
Assembly Speaker Carl Heastie, D-Bronx, on Thursday reiterated his belief that opponents are playing politics as they've beaten the drum over bail.
"I've said that this argument has been political all along," Heastie told reporters. "You're not going to incarcerate people into crime dropping."
Republicans offered their counterparts across the aisle faint praise for rejecting the governor's plan to spark a statewide housing boom as lawmakers on both sides raised issues with Hochul's proposals.
The governor, hoping to jump start the development of 800,000 new housing units over the next decade, has called for mandating new housing targets and allowing a state panel to override local zoning decisions if cities or towns fall short of certain goals.
The plan has faced bipartisan pushback from suburban lawmakers. Hochul's fellow Dems are instead calling for incentives for communities to help alleviate the cost of infrastructure improvements needed to handle additional housing.
Over the coming weeks, Hochul, Heastie and Senate Majority Leader Andrea Stewart-Cousins, D-Yonkers, will seek common ground as they work to hammer out a deal ahead of the March 31 fiscal deadline.
Despite the glaring differences threatening to delay the adoption of an on-time budget, Hochul is optimistic a deal will get done.
"I've been called an iron fist in a velvet glove," Hochul told Fox 5's "Good Day New York" on Thursday. "I have a lot of respect for the legislators. They are representing their views in their districts. I represent the entire state of New York, and we'll work it out."
Borrello said Senate Democrats ignored pleas for help from small business, noting a minimum wage increase proposal higher than the one proposed by Hochul "would devastate our economy, family farms and employers of every size. Despite a $10 billion revenue surplus, not a dime was allocated to help small businesses who have been unjustly burdened with paying the $8 billion in unemployment insurance debt caused by the state."