Asking voters in the Hinsdale Central School District to support building a new athletic field last fall triggered a debate on whether the school district should even exist.
While some residents pleaded for the new facilities, others at tense capital project hearings argued that the area's shrinking population made the investment futile. They urged officials to not only scrap the project, but save money and improve the school's academics by merging with one of many larger school districts nearby.
But Hinsdale officials fought back. They scaled back the project and finally won voter approval. They also defended their 400-student district for its stable property taxes and above average state test scores in areas like English and math.
"I don't see Hinsdale going anywhere, to be honest," said Hinsdale Superintendent Larry Ljungberg.
Most New York state school districts and their communities have also stood firmly against mergers.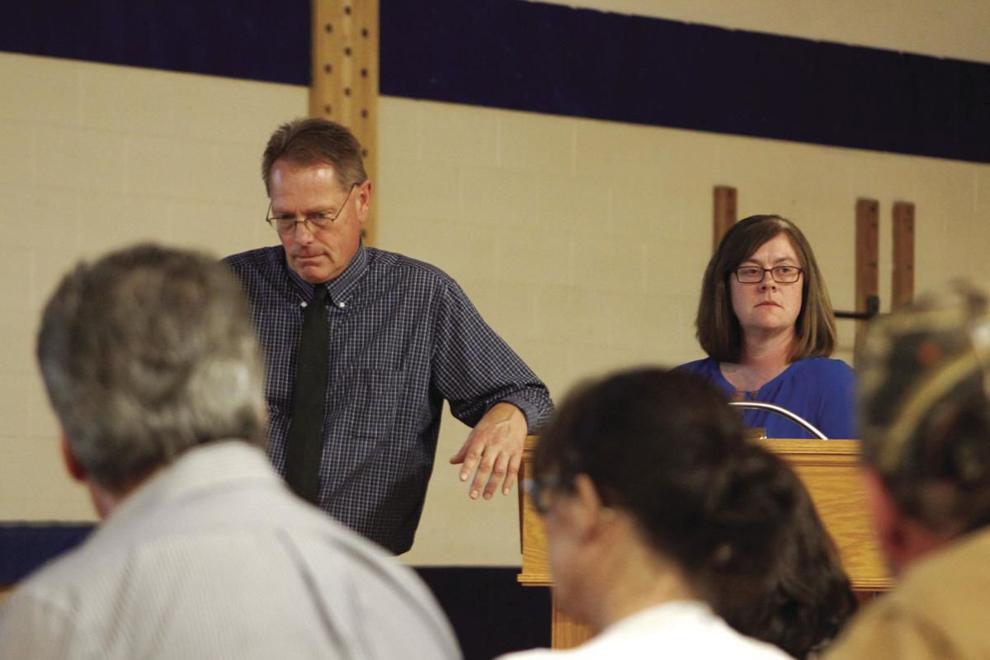 The state went from nearly 1,300 districts to about 700 between 1970 and 2000 — a time in which several districts in Cattaraugus and Allegany counties merged — but there's been just two mergers and one annexation statewide in the last decade, and no consolidation since 2013.
Of the 15 merger studies conducted from 2010 to 2014, four were rejected by voters and 11 didn't get to a public vote, according to a study by the New York State Association of School Business Officials.
"Merger and consolidation kind of ran its course," said David Little, executive director of the Rural Schools Association of New York State. "We've got a history of 15 to 20 years — they almost always fail."
On the surface, the pros of consolidating rural school districts seem obvious. Rural districts make up roughly 300 of the state's more than 700 districts, but account for just 11 percent of all students.
Merged districts also get more state aid: a 40 percent increase in each of the first five years post-merger. The aid then decreases by 4 percent per year and ends after 14 years.
Plus, mergers provide some savings. A 2009 University at Buffalo Regional Institute policy brief found merging the 36 smallest school districts in Western New York would save $133 million per year, or 20 percent off their combined budgets.
And of course, there are educational benefits. With more students, more state aid and a bigger tax base, larger school districts can maintain and add programs.
Mergers can create greater opportunities for high school students to take advanced coursework that is often unavailable in smaller, rural school districts, a New York State Education Department spokesperson said in statement.
Yet there are plenty of downsides.
Transportation is a major hurdle, especially for rural areas where school districts cover huge geographic areas and districts can often border each other despite their school buildings being dozens of miles a part.
Locally, the district created in 1995 by merging the larger Allegany and smaller Limestone school districts resulted in a conflict over busing about 20 years later. When the district consolidated its Limestone routes in 2016, parents voiced their concerns about the longer commutes — some well over an hour for children as young as 4 — and that high school and elementary students had to ride the same bus.
While mergers can create savings, they can also add costs. When two school districts merge, teachers from the lower-paying district likely get higher salaries to match the other district.
And although mergers substantially lower taxes at first, they don't stay low. New York Statewide School Finance Consortium, which represents more than 400 mostly average and low-wealth school districts, found that taxes begin to increase to levels comparable to non-merged school districts about 15 years into the merger as incentive aid dried up.
Yet the biggest roadblocks have nothing to do with costs. Often, neither community is willing to give up their school name and traditions, or see their old high school team play alongside a former rival.
But moreover, the community that forfeits its school must worry about losing its identity.
Rural schools are both the "economic engine and cultural center" for their communities, and without them, "it's not long before you don't have a community," Little said.
"It just kind of bleeds out."
In 1995, Limestone parents wary of a merger with Allegany were told Limestone's elementary school would receive large capital investments such as a pool. The pool was never built, and by 2010, the Allegany-Limestone school board voted to close the elementary school due to low enrollment.
School board officials in 1998 promised to keep the Little Valley elementary school open during an annexation between Cattaraugus and Little Valley central school districts, but closed the school anyway in 2012. In response, a Little Valley resident sued, but the state Education Department sided with the Cattaraugus-Little Valley Central School District after a three-year battle.
Given its impact on communities, the emotional nature of mergers is so sensitive it's become a taboo subject for some educators.
"As an administrator, I try never ever to say that word," said Hinsdale Business Administrator Jennifer Jaquith. "Because even if I'm talking about a different district… they're going to say that the business administrator was talking about mergers."
WILL NY STATE PUSH MERGERS?
Although school districts and communities are mostly resistant to mergers, they're also not getting much push from the state.
While other states, such as Vermont with its recent Act 46, have passed laws to mandate consolidation, the few bills proposed in New York to encourage mergers haven't gained much traction.
One bill by state Sen. Kenneth LaValle, a Long Island Republican, would force certain small school districts to put mergers out for a vote. It hasn't made it out of Senate Education Committee since being introduced in 2009.
Noting mergers or alternative forms of sharing could have benefits for students, New York State Board of Regents member Beverly Ouderkirk feels any momentum toward consolidation will have to be generated by the state.
She doesn't see that happening, primarily because school district mergers are seen as unpopular with voters.
"The legislature isn't going to bite the bullet, the governor isn't going to want to bite the bullet. It will hurt their chances of being voted back in," she said, later adding, "How far are we going to get stretched before we say it's enough and it's time to study this again and to take action? We apparently aren't there yet."
State Sen. Catharine Young, R-Olean, said she doesn't support forced consolidation because she sees it as a local decision, not one by "bureaucrats in Albany."
Marty Strange agrees. He's the former policy director for the Rural Schools and Community Trust, a national nonprofit that provides training and networking for rural schools. Living in Vermont, he said he's seen the strife caused by the state's forced consolidation.
"It may be painfully slow, it may look like people are hanging on," Strange said, "but the best decision is made when local people have to make the decision."