Scott and Alysha Sharp had a choice to make for their children.
Last year, the family moved from the Portville Central School District in Cattaraugus County to the neighboring Bolivar-Richburg Central School District in Allegany County.
The Sharps could send their three children to Bolivar-Richburg at no extra cost, or pay a total of about $750 in tuition to keep them enrolled at Portville, a district with more students and higher graduation rates and state test scores.
They willingly paid to keep their children in Portville.  
"It gives us an option to better our kids' lives," Scott Sharp said.
The Sharps are not alone.
Across the region, families are taking part in a silent referendum on local school districts, electing to send their children to public schools outside their home districts in search of academic opportunities.
Nearly 5 percent of K-12 students in rural Cattaraugus and Allegany counties, a total of 908 students, were so-called nonresidents during the 2016-17 school year, according to the most recent data from the New York State Education Department. That included 183 students who live in other nearby counties and Pennsylvania.
The two counties have the highest percentages in Western New York and among the highest in the state of students attending school districts other than the one where they live, with Cattaraugus ranking 10th and Allegany ranking seventh.
Outside New York City, counties in rural areas have the highest percentages of nonresident students.
"Because enrollments are going so low, (rural school districts are) starting to accept nonresident students just as a way to try to keep a few more kids in the high school," said Dr. Alan Pole, a retired rural superintendent who now works as an educational consultant.
The number of nonresident students in Cattaraugus and Allegany counties jumped from 800 in 2007 to 908 in 2017, at a time when overall enrollment dropped by 14 percent.
Local superintendents for the most part downplayed both the benefits and consequences of this movement. They say the freedom to choose is healthy, and likened their schools to magnet schools.
"If I want my kids to have a really small-school experience, you have Hinsdale," said Olean City School District Superintendent Rick Moore, referring to the 400-student Hinsdale Central School District next to his 2,000-student district. "If you want a more moderate, in-between school, you have Portville. If you want more of a metropolitan-type education with more diversity and obviously just more programs, you go to Olean.
"It's kind of worked out for everybody."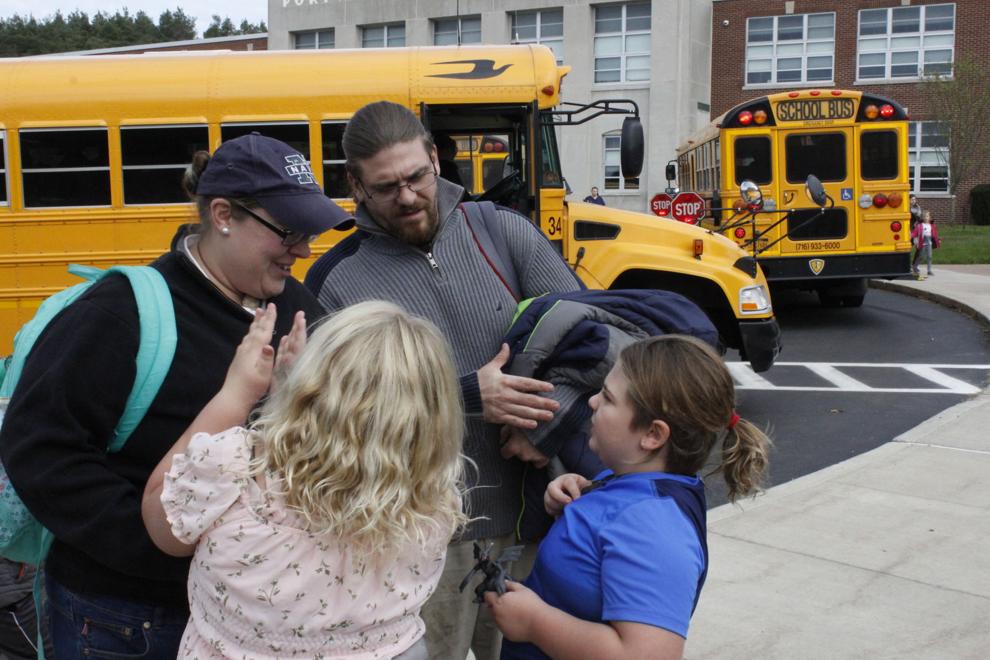 While some school districts in the two-county area enroll nearly 200 students from other districts, others watch dozens flee for neighboring districts. Of the 24 districts in Cattaraugus and Allegany counties, nearly two-thirds experienced a net loss of students during the 2016-17 school year because of nonresident student movement within the two-county area.
And when a school district loses students to other districts, it can encourage others to flee, said David Little, executive director of the Rural Schools Association of New York State.
"Once the decline starts, you're likely to have others who leave — not because they're moving out of state — but simply because the school district no longer has the ability to offer the kinds of things (their parents) think are required for their kids to get a good education," he said.
The financial impact is unclear. Nonresident students mean higher state aid, yet more students can also mean higher costs, like the need to hire additional teachers if the incoming students can't be accommodated in existing classes.
But for many parents, all that matters is giving their children the best chance to succeed. In a climate where rural school districts often struggle to provide advanced coursework, they're looking for the districts that can give their children an edge.
Scott Sharp, himself a Portville alumnus, was especially attracted to the school's Envisioneering Center, where his ninth-grade son can learn "real world skills" using technology like laser cutters and 3D printers.
"I think it's great that we can choose where to send our kids to," he said, "instead of just saying they have to go there."
Where students are going — and where they're leaving
While nearly every local school district both takes and loses students to their neighbors, some stand out.
The leaders are Portville and the Ellicottville Central School District in Cattaraugus County. More than 20 percent of Portville's 959 students were nonresidents, while nearly 30 percent of Ellicottville's 606 students were nonresidents. Ellicottville had the highest percentage of nonresident students in Western New York and among the highest in the state.
Both those rates have increased from a decade before, when Portville's nonresident population was only 8 percent and Ellicottville's was only 15 percent.
Portville Superintendent Tom Simon said he hopes his district is attractive because of its academic opportunities. Its attraction reaches to Pennsylvania, where 41 of its 197 nonresidents reside.
In addition to its Envisioneering Center, the district offers coding, robotics and about 60 dual enrollment credits, mostly through Syracuse University. It even covers the costs for students who earn at least a C-plus.
Ellicottville Superintendent Bob Miller did not respond to an interview request.
Portville and Ellicottville mostly take students from their larger, city school district neighbors. Portville had 98 students from Olean, while Ellicottville admitted 103 students from the Salamanca City Central School District — the two single biggest migrations between two districts in the area.
Portville and Ellicottville outperform Olean and Salamanca in graduation rates, state assessments in grades 3-8 English Language Arts  and math, and most high school Regents exams, according to 2017 state data.
In the two county-area, Ellicottville had the highest percentage of students score proficient on the English and math assessments, 59 percent and 48 percent, respectively while Salamanca had the lowest for English, 15 percent, and the second-lowest for math, 19 percent.
There's also an economic divide. Salamanca and Olean have among the highest percentages of low-income students inthe two-county area at 68 and 63 percent respectively, while Ellicottville and Portville have among the lowest at 39 and 47 percent, respectively.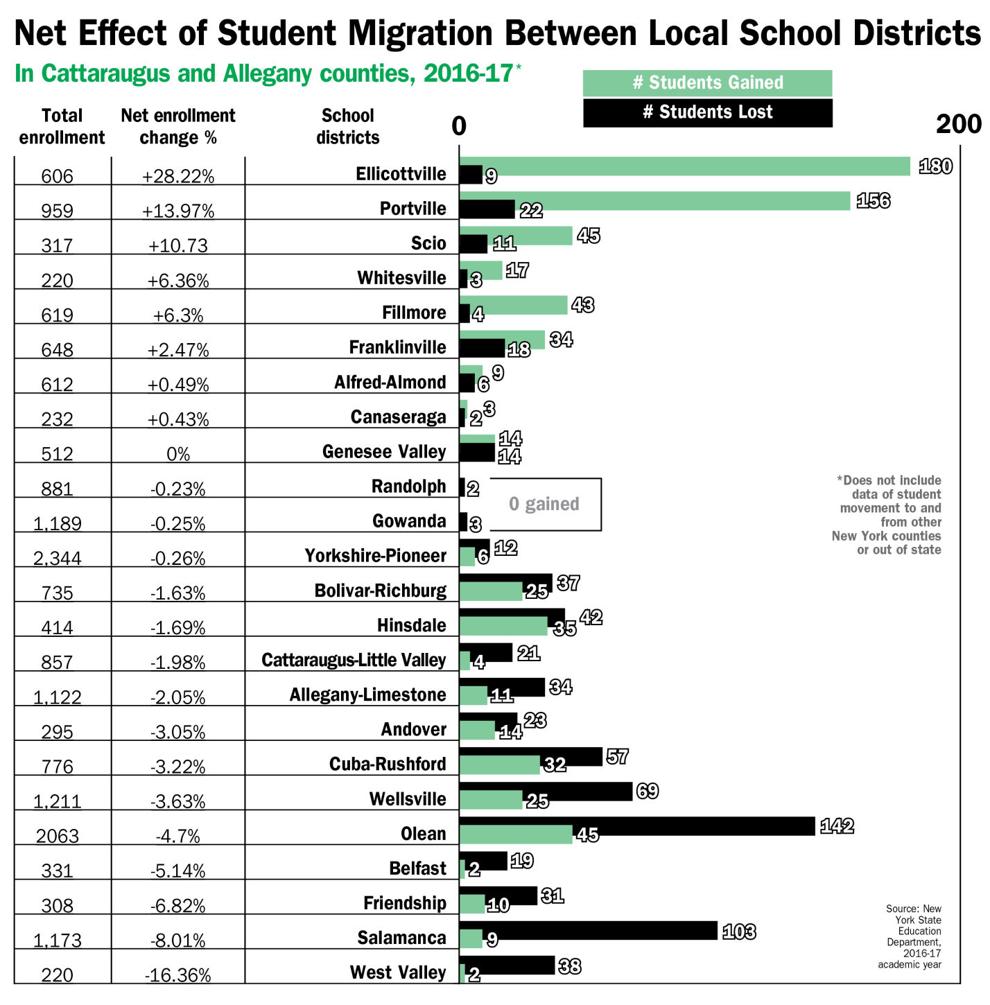 Salamanca Superintendent Robert Breidenstein, whose 1,110-student district had a net 8 percent loss of students in 2016-17 due to nonresident movement within the two-county area, would only respond via email.
He said his district is seeing "a marked increase in returning and transfer students including tuition paying children from neighboring districts," but did not respond to questions to specify which years. State data shows Salamanca had 30 nonresident students in the 2011-12 school year and just 13 in the 2016-17 school year.
Olean Superintendent Rick Moore said he couldn't say why the district lost a total of 142 students to other districts, which turned out to be a nearly 5 percent net loss when factoring in the nonresidents it brought in.
"If we have a kid who does better at a different district, that's not a bad thing — I mean, I'd like to know what we can do," Moore said. "And vice versa if we can help a family or kid from another district and our school fits their needs better."
Saad Mirza left his Hinsdale home district to go to Olean for more opportunities in courses and extracurriculars, including the ability to play in the county's only school orchestra.
Yet Hinsdale is one of the districts where nonresident students had little impact on overall enrollment. The district lost 42 students like Mirza but gained 35 others for a net enrollment loss of just 1.69 percent.
Hinsdale Superintendent Larry Ljungberg said his small, single-building district offers "a more personalized, private education."
Is there a cost to nonresident students?  
Natalie and Evan Hockhousen waited outside Portville Elementary School on a recent Friday afternoon to pick up third-grader Landen and second-grader Paige, two of Portville's nearly 200 nonresident students.
It's about a 40-minute round trip to take the kids to school, and another to pick them up — most local districts have policies against busing nonresident students — but the Hockhousens say it's worth it.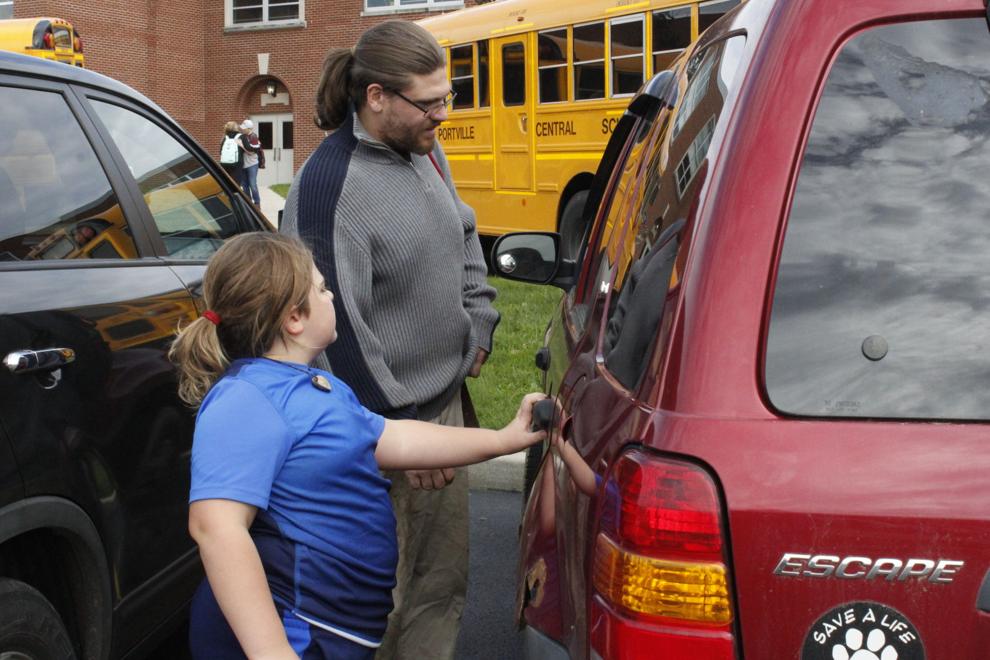 After a fire forced them from their Portville home to inside Bolivar-Richburg district limits three summers ago, the Hockhousens kept their children enrolled at Portville for what they described as the district's family-like environment.
In addition to showing support after the fire, teachers have been accommodating with Landen, who has autism. He's found his "niche" in the district's coding program, Natalie Hockhousen said.
Landen's even been helped with his reading struggles by elementary Principal Lynn Corder, who greeted the family outside the school building that Friday afternoon.
In total, 25 students who lived in the Bolivar-Richburg district attended Portville in the 2016-17 school year; Bolivar-Richburg Superintendent Michael Retzlaff did not respond to a request for comment.
"Paying a couple hundred to make sure they succeed and there's a staff that really truly cares about them, from the lunch ladies to the bus drivers to everybody," Natalie Hockhousen said, "you can't even put a price on it."
A state formula caps how much tuition individual districts can charge nonresident students. The Allegany-Limestone Central School District in Cattaraugus County charges its maximum, more than $2,000 for kindergarten through sixth-graders and nearly $3,000 for seventh- through 12th-graders.
Yet other districts like Portville, Ellicottville and Olean charge well below their maximum, sometimes just a few hundred dollars. Some, like Hinsdale, don't charge tuition.
While not gaining much from tuition, districts do receive Foundation Aid for nonresident students on par with what they receive for resident students. Foundation Aid — based on a complex formula — represents about 70 percent of all state aid.
Portville, for example, received roughly $7,700 in Foundation Aid per student in the 2016-17 school year, meaning its 197 nonresident students translated to about an additional $1.5 million in Foundation Aid.
Simon said Portville doesn't hurt its neighbors by taking their students, noting the state's hold harmless provision which prevents districts from losing Foundation Aid year to year even if their enrollment goes down.
Still, school districts would see even more Foundation Aid if the students who lived in their boundaries stayed with them. Olean would have received about $800,000 more in Foundation Aid had 98 Olean residents not attended Portville.

But Moore said extra Foundation Aid from nonresident students can be cancelled out by extra costs, like teachers.
"I think when you start bringing in more kids than your capacity, is that fair to the taxpayers?" he said. "Would I want to hire another teacher because I'm bringing in kids from other districts and they're paying minimal tuition? I don't know. What's the cost difference?"
Simon said nonresident students don't add costs at Portville, which gets about $125,000 in extra Foundation Aid per grade level for nonresidents.
"It's not costing an additional $125,000 per grade level to have an additional 15 kids (per grade level) because we're able to kind of integrate those kids into the class that we have," he said. "Even if we had to hire an additional teacher, it's not going to cost us that much."
Smaller districts hit by enrollment decline also argue nonresident students don't increase costs. Hinsdale Business Administer Jennifer Jaquith said nonresident students simply "fill seats that would otherwise be empty." That justifies Hinsdale's decision not to charge them tuition, she said.
However, Allegany-Limestone Superintendent Tony Giannicchi said charging the maximum tuition is the best way to ensure fairness to his taxpayers. Perhaps as a result, only 11 of Allegany-Limestone's 1,112 students in the 2016-17 school year came from other districts.
"Is it beneficial to have a student coming from outside? It could be," he said, "but I guess our first priority is making sure our taxes are fair for our residents here."
How nonresident students impact enrollment
Portville and Ellicottville are the only school districts in the two-county area to see any total enrollment growth the last decade. Their K-12 enrollment went up 7 percent and nearly 6 percent, respectively, while all other local districts fell by at least 7 percent.
That's not because more people moved to Portville and Ellicottville — the U.S. Census Bureau estimates both districts' towns and villages either shrunk or stayed about stagnant during that time.
The likely reason was nonresidents.
Simon said keeping enrollment at about 1,000 is good for Portville.
"Without the nonresident students ... we wouldn't be able to provide a lot of additional opportunities we give kids," he said.
Moore maintains Olean isn't hurt by losing about 140 students to other districts, adding the district's four buildings are full after closing two elementary schools and reconfiguring grade levels in 2012.
But student migration can hurt smaller districts.
The West Valley Central School District, which only has about 200 total students, was impacted the most negatively by nonresident student movement. It saw a net loss of 16 percent when it lost 38 studentsto Ellicottville but gained only two nonresident students from other districts in the two-county area.
West Valley's total enrollmentdecline is so steep — 44 percent in 10 years — that district officials last year ordered a study to examine the effects of being annexed by Ellicottville or the Springville-Griffith Institute in Erie County.
West Valley Superintendent Eric Lawton did not return a request for comment.
Overall, nonresident students are a topic local educators are hesitant to discuss. While some ignored interview requests, some who spoke explicitly expressed anxiety over revealing where their nonresident students come from.
When asked about this reluctance, Moore said it was probably because districts want to "have a good relationship."
"I think it's the same with businesses in town," he said. "If you have a couple car dealers, do we want to be the best car dealer? Absolutely. But on the other hand, we also want to be good neighbors."
(This story was done in collaboration with City Editor Danielle Gamble and Rose Ciotta of the Investigative Editing Corps. For more about how this story was reported, click here.)