OLEAN — At 220 N. Seventh St., the roof is broken in patches and the outside second-floor stairs wobble under one person's weight. Bare light fixtures hang tenuously on loose planks inside the upstairs unit, close to where children are down for a nap. Downstairs, sunshine barely filters through unopenable windows covered in spray insulation foam.
"Complete violation," declares Capt. Ed Jennings, head of the city's code enforcement office, as he watches a video shot last June by the Olean Times Herald.
While silent video images play of exposed wiring in the living room, Jennings shakes his head in frustration.
"This is one of those houses that she just needs to kick everybody out and start over," Jennings said.
City records show multiple citations since 2013 and attempts to require the owner, Linda Barlett of Olean, to make repairs. Some of them have been made.
Tenants said they need a place to live so they make some fixes themselves, but they are frustrated when the landlord makes minimal repairs. "It's definitely not a mansion," resident Kimberly Minton said, letting out a sigh. "It's awful."
Stemming blight in Olean is being undercut by the lack of inspectors, funding and local laws that would require landlords to bring units to code before they can be rented again. Such a law, the subject of a public hearing on Tuesday, is aimed at helping tenants like those who live at 220 N. Seventh and the thousands who live in the city's 2,600 rental units.
Olean lags other cities its size in Western New York and Northwestern Pennsylvania that require regular inspections to fight blight.
Without such a law, Olean's code enforcement depends on complaints from renters who have the sole power under state law to allow an inspector to enter their homes.
Neighbors call sometimes, usually to report outdoor problems. Complaints related to garbage, grass and snow account for about a third of the actions initiated by Jennings's office since 2009, city records show. Only 8.7 percent of the actions are for housing issues.
"We don't know where the problems exist," Jennings said. "And some of these other occupants, they feel threatened by the owner if they call us, so we don't get in these houses or they don't call."
The result is many renters living silently in dilapidated housing.
OLEAN — While low income residents have historically struggled to find safe and affordable h…
"Unfortunately, people who are in the lower income bracket who are forced to accept less-than-standard housing is kind of status quo," said Stephanie Timblin, executive director of Olean's Rural Revitalization Corporation, a nonprofit with a 30-year track record of helping owners fix up their homes.
While the city does have quality rental properties and excellent landlords, Timblin said, her office has responded to a range of complaints from poor weatherization to lack of running water.
"These buildings are not being kept up to code or up to the standards that seem very simple," she said.
Olean's housing problems have been discussed in city hall for at least a decade, but legislation has been repeatedly watered down or rejected. In 2010, a compromise led to a landlord registration law.
But talk about a law requiring inspections stalled.
OLEAN — Olean officials have struggled for more than a decade to craft a policy to fight the…
That may change this year.
Alderman Kevin Dougherty, a homeowner and landlord, sponsored a property inspection law in May.
"I see other houses getting blighted out," he said. "I watch other property next to me fall by the wayside."
Dougherty said his proposal, which could come up for a vote as soon as Nov. 28, will motivate people to fix up their properties.
"I think the law is a good law," said Olean Mayor Bill Aiello. "We've been talking about blight for years and years in Olean, and this will give us a start to bring our neighborhoods back."
If the law passes, hurdles like funding and enforcement remain.
Even if tenants started reporting violations, Jennings said he doesn't know if he has enough resources to respond. In 2015, Olean's code enforcement office received 2,315 complaints, followed by 1,322 in 2016.
"You usually get a complaint on one thing and you get there and you find five other complaints or issues in the neighborhood," he said.
As the city's code enforcementsupervisor, Jennings has power over how much discretion to use when issuing tickets to landlords and how much time to give them to make repairs or evict the tenants. He said an order to remedy could have a timeline between 48 hours for something like garbage to a month for problems with the structure. Sometimes he warns a landlord about a violation instead of officially citing their property.
"If it's a serious violation, we're going to address it. But if it's something that can get done over time and through negotiations with the owner or the occupant, we'd rather go that route than fine people. We're not here to do that — we're just here to get compliance and get Olean as a better place."
Code enforcement, which is under the city's fire department, has two staffers after a full-time position was cut. This year Jennings worked solo when his partner was on leave for five months. If the proposed law is adopted, the fees generated will allow the hiring of two part-time inspectors, Aiello said.
Lawmakers, tenants, neighbors and advocates say that unless solutions are enacted, properties that don't meet state building codes will stay on the city's rental market.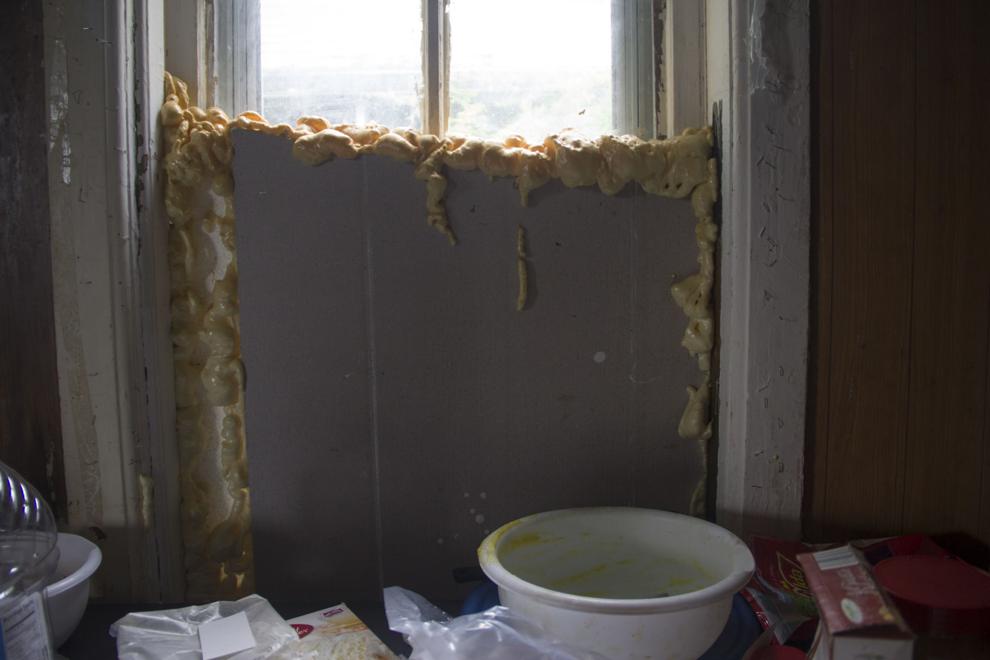 RENTAL DEMAND GROWS; BLIGHT SPREADS
Chris Labarge has lived at 220 N. Seventh St. for seven years, and Minton has lived there for four years. This summer, the space was shared by three adults, two children, three dogs and a group of cats.
"There's only one door in and out," Labarge said in a June interview, nodding up to the top of a worn wooden staircase. He was trying to repair the structure by nailing in new pieces of wood.  
Shortly after, while standing at the top of the stairs, Minton said, "It's going to go one of these days."
City records show the property was inspected March 7, and Jennings issued a citation April 7 that ordered the stairs to be replaced within a week.
While watching video July 11 of the staircase's condition in June, Jennings described the danger of it as "pretty severe."
He subsequently revisited the property and found the stairs to meet "minimum standards."
During a visit to the property Monday by the Times Herald, the stairs did not wobble under a person's weight.
Barlett, who resides in Olean, declined multiple requests to be interviewed by the Times Herald.
North Seventh Street is a microcosm of the city's housing woes.
Of the 12 properties on the 200 block of N. Seventh, half are rentals and three of those are owned by Barlett. Those three properties have been the subject of 17 code enforcement complaints between 2012 and Sept. 30, 2017.
On the five blocks of North Seventh there are 70 residences. Just seven of the properties generated 51 complaints in the last five years — three rentals, two city-owned, one owner-occupied and one vacant.
Residential blight stems from a decrease in homeownership and a drop in city population. Olean has lost 9,090 residents since the 1950s. Job losses followed, hurting the city's economy and increasing the poverty rate to 23.7 percent, almost twice the nation's 12.7 percent, according to U.S. Census Bureau statistics.
Olean simply lacks the population to fill its aging homes, and those who do remain may struggle to afford purchasing and fixing up a home.
"You see more and more people leaving the city, more and more houses sitting empty, more and more people renting," said Common Council President Paul Gonzalez, D-Ward 3.
Blocks in Gonzalez's ward have rental rates of more than 50 percent, such as several blocks near Franchot Park in South Olean.
Some of Olean's housing problems stem from the age of the homes. Most are over 100 years old and not covered by the state's most recent codes.
To assess the city's rental properties, members of the Citizen's Action Network activism group walked Olean's most rundown neighborhoods last summer to distribute 400 surveys that tenants could fill in anonymously.
Only about a dozen people responded, said Chris Stanley, project leader.
"People are hesitant to complain because of fear that landlords will evict them, even though state law prohibits that," Stanley said. He added many inadvertently open themselves to these circumstance by violating their lease agreement or paying rent late.
"There are people in our community who have needs and they don't feel like they can speak up for themselves," he said.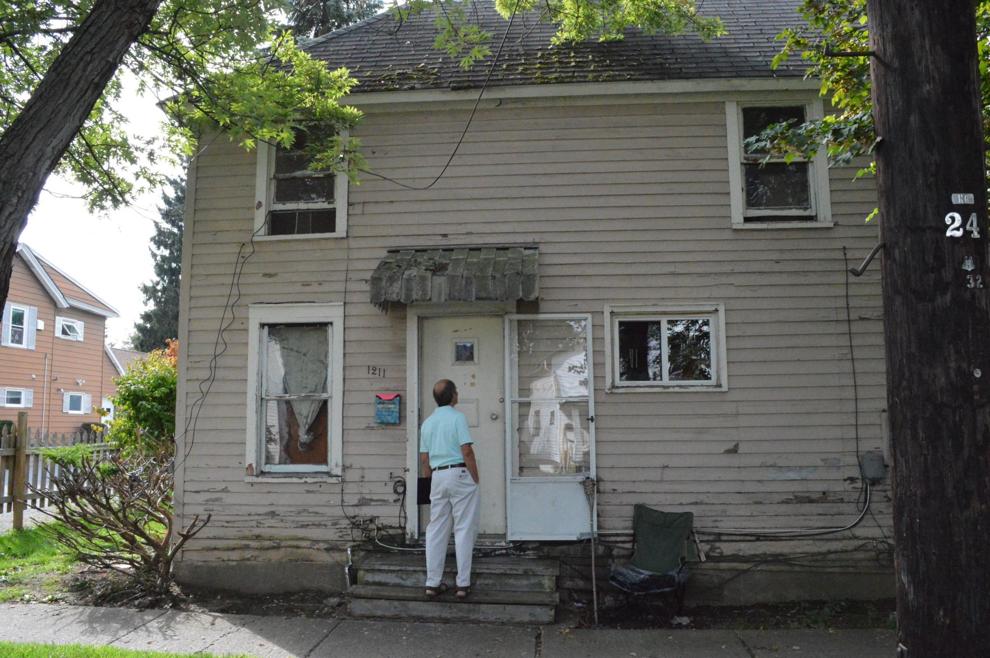 'ALL OUT WAR' AGAINST LANDLORDS
Dawn Shelley, of 1211 Washington St., said she is not afraid to speak out about the house she is renting from Richard Middaugh, of Alma, from whom she has rented multiple times before. Middaugh owns the most rental property in Olean, according to the city's landlord registry.
The outside roofing is a patchwork of fractured tiles, and the basement floor is covered in puddles.
Middaugh did not respond to multiple requests for comment from the Times Herald.
Jennings, upon seeing photos of Shelley's home, said the visible roof damage and some of the plumbing issues in her basement could result in citations for housing code violations.
Shelley thought so, too. So when she looked down the street and saw a code enforcement van earlier this year, she walked up to it and asked the officer to take a look at her property.
But when the officialgot to her door, Shelley said her wife stopped him.
"She didn't want no problems with Middaugh," Shelley said.
Code enforcement officers cannot enter a property without an invitation or a warrant unless there is an emergency like a fire. This invitation must come from the tenant, not the landlord, according to state law. Landlords cannot even enter their own property without tenant permission, with exceptions for emergencies or showing a house to prospective renters or buyers.
Of 2,658 rental units registered in Olean as of September, two-thirds listed owners with Olean addresses.
Middaugh reported owning nearly five percent of all rentals, the highest number of any landlord at 60 properties with 127 units. Barlett reported 26 properties with 42 units, the registry shows. Because landlords can face stiff fines for not reporting, officials say the registry lists nearly all rentals.
Both Middaugh and Barlett have a track record of responding in a timely manner to the multiple housing violations they have received on their properties, according to Jennings and City Attorney Nick DiCerbo.
"A lot of them, when pushed, will make the repairs or at least repair it enough that it meets code," DiCerbo said. "It might not meet what we think should be appropriate. But most of the time, those landlords do comply with the orders. It's just we have to hold their feet to the fire. And unless we get into a house we have no idea what's going on on the inside."
Andy O'Dell, who owns one Olean property but said he owns 80 throughout the Southern Tier, complained to the Times Herald that unruly tenants often damage properties and leave without paying utility bills. He called the city's proposed rental inspection law an "all-out war" against landlords.
"We have no rights," O'Dell said during a housing panel in October. "We can't discriminate, we can't evict, we can't do nothing — they have all the rights."
Jennings agreed that tenants are responsible for many of the problems he sees. He said some cannot afford to pay for garbage pick-up, while others are destructive and sometimes just "lazy."
"Just because they are poor doesn't mean they can't be clean and take care of their property," he said. "And that's what we ask, and a lot of it is more of an educational thing for these tenants."
But others place more of the blame on lack of oversight by both landlords and the city.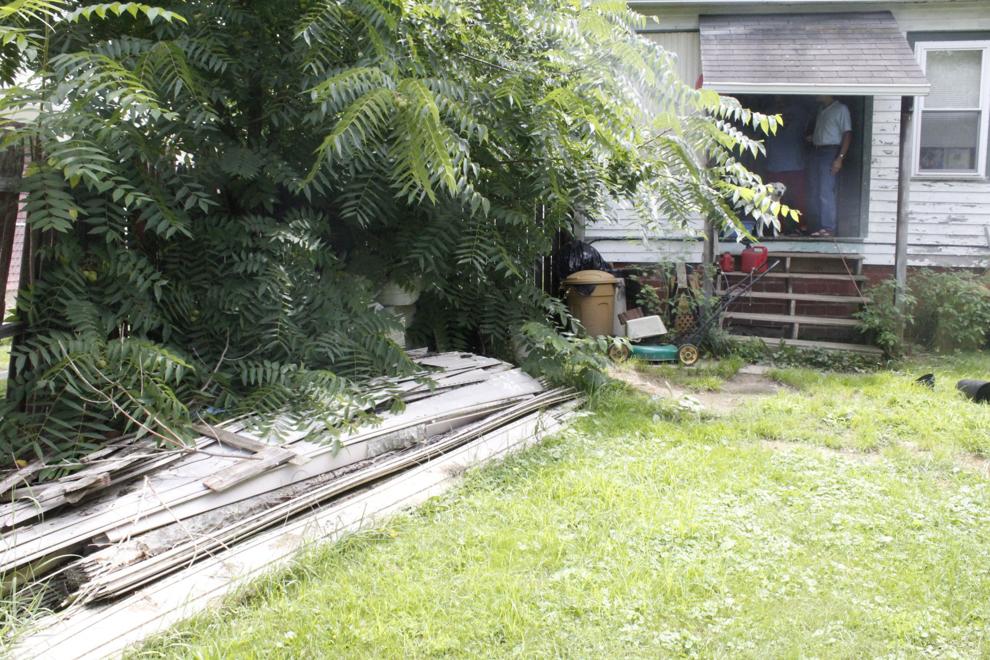 Robert Bliss, of 608 Irving St., has rented his property from Cornerstone Homes Inc. for about six years. He wants the city to enforce housing codes. He shouldn't have to file a complaint to get an inspector, he said.
While he has a broken ceiling in his kitchen, he's mostly concerned with problems outside — in his backyard sits a pile of siding he said has been there since he moved in.
"I've called (Cornerstone Homes) and they just blow me off," said Bliss, 61.
Jennings, while reviewing a photo of the Bliss home, said he would ticket the person responsible for storing the materials in the yard.
After the Times Herald described the conditions of 608 Irving St., Angela Blodgett, Cornerstone Homes office manager, declined to answer questions on the record. She later issued a statement on behalf of the Corning-based company.
"We are all for rental inspections on a yearly basis to protect our tenants, but the tenants need to make us aware of repairs in a timely manner," she said.
Of 10 cities in Western New York and Northwestern Pennsylvania with populations within about 5,000 of Olean's population, eight require residential rental inspections in some form. Officials in Batavia, Bradford, Pa., Canandaigua, Corning, Geneva, Hornell, Lackawanna and Tonawanda have passed laws over two decades.
"The concept of inspections has been discussed for years," Gonzalez said, but during his five years on the Common Council, consensus has been hard to attain on inspections. "Right now, we have a council that fully supports this idea … Not everyone on the council agrees with every little detail of it — everyone on the council agrees that something needs to be done."
The council is considering a proposal to inspect all city properties and issue a certificate of occupancy upon sale. The law would require inspections of all rental units upon vacancy before each unit is rented out again. It would take effect June 1, the beginning of the city's next fiscal year.
Landlords who rent properties without a certificate of occupancy would be subject to fines from $250 to $1,000, or imprisonment up to 15 days for each day the property is rented.
Each inspection would cost $60 each, but landlords with high turnover would would pay $30 for follow-up inspections triggered by a vacancy within 12 months.
DiCerbo said he does not foresee any legal challenges that could be brought against the legislation, and credited the council for not writing in any exemptions which might have weakened its enforceability.
He added while it might take a while to "dig out of" the city's blight issues, the new law will bring change.
"So much of the time, (council members) get beat up for not doing what their constituents want them to do or not listening to what people have to say," DiCerbo said. "I think they did a good job this time, they thought it out and tried to balance the landlord's rights, the tenant's rights, the city's rights to come up with a fair policy that applied to everybody."
Stanley said the law as it is written would be a boon for the city as long as it isn't "watered down" before it is passed.
Timblin said she believes the city has thoroughly researched the topic and hopes it will help low-income families.
"They have to do something," she said of the council, "and I think the final legislation as it looks is going to be a great change in the status quo of the substandard housing that's available."
In the meantime,  Anthony "Tony" Ray, who also lives at 220 N. Seventh St., is worried that winter is coming and the roof needs replacing.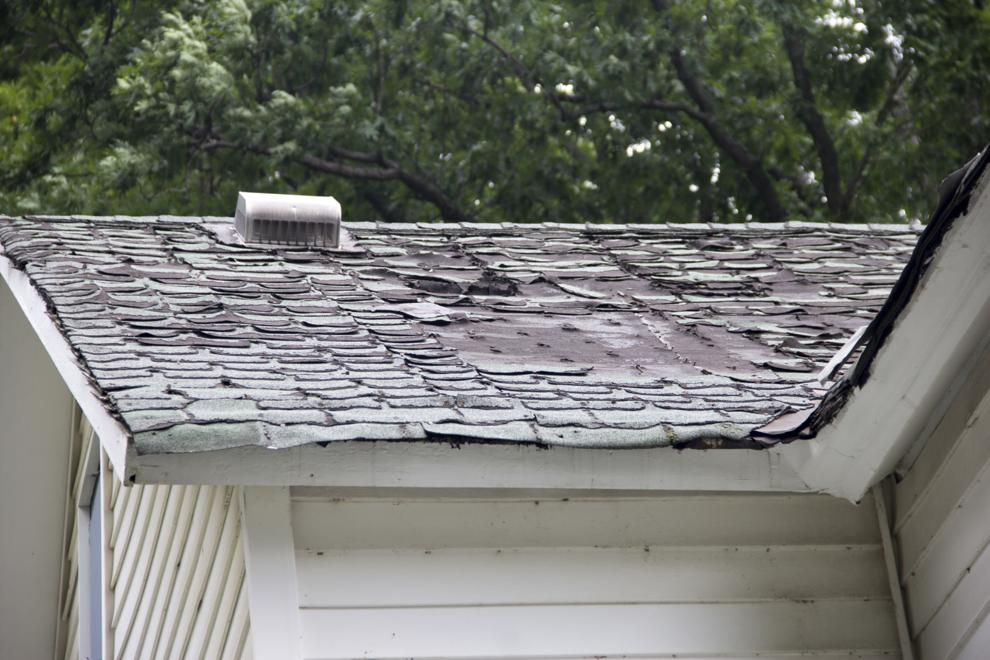 The city on Sept. 14 gave the owner 30 days to "remove and replace" the roof because it "has exceeded its life expectancy." Work didn't get started until the end of October and was shut down by the city on Nov. 15 because the workers were uninsured.
If the roof doesn't get fixed, Jennings will issue the owner a ticket to appear in court.
"If the roof ends up leaking this winter, it will be subject to being posted unfit (for habitation)," he said.
Ray has little hope that anything will be done. "If it comes to that, I've got to figure something out."
(This story was done in collaboration with Rose Ciotta of the Investigative Editing Corps.)