Top 10 stories of 2018 in the Olean area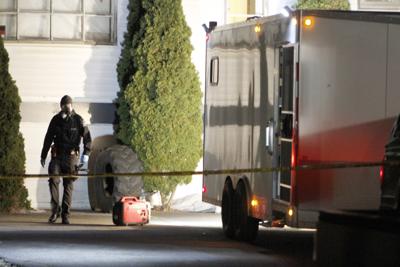 With anxieties riding high across the U.S., it's no surprise localized stories about national topics sparked huge interest in 2018.
The rise of methamphetamine use was deemed by a wide margin the top local story of this year by the Olean Times Herald staff, echoing concerns of the last few years about widespread heroin use.
Other big news included stories kicked off by local reactions to school shootings, clergy sexual abuse in the region and the energy of the midterm elections.
But it wasn't all negative — 2017's top story of Olean receiving $10 million in Downtown Revitalization Initiative funds carried forward to this year, with businesses bolstered by finding out who had received a cut of the investment.
Here are 2018's top 10 local stories, in order:
1) Meth use rises while some progress made with opioids
Amid the nation's opioid crisis, 2018 saw the rise of another harmful drug in the Southern Tier: methamphetamine.
News of local authorities executing search warrants on meth labs dominated the headlines, as meth-making materials were found everywhere from a car driving through Franklinville to an Allegany hotel to a home across the street from Olean Intermediate Middle School — twice.
Perhaps nowhere in Cattaraugus and Allegany counties was more impacted by meth than the city of Olean. During 2018 and the last two months of 2017, police discovered 10 Olean residences to be housing a meth lab and charged a total of 23 people in connection.
Local police and health officials expressed concern that meth has become a popular drug of choice due to its easy, cheap — albeit dangerous — production process.
In addition to creating harmful fumes that can permeate a living space, the volatile nature of meth-making materials — things like lighter fluid and household cleaning products — can often lead to fires.
Meth-making materials have been found at the site of three Olean home fires, including an Irving Street apartment building that caught fire in March and had to be demolished.
The rise of meth came as local officials noted some progress in the fight against heroin and opioids, including that the number of heroin/opioid overdose deaths in Cattaraugus County appears to be trending down. The use of opioid antidote Narcan was also reportedly trending down in the county, and the Olean Police Department noted that heroin appeared to be less available on city streets.
However, officials expressed concern that some drug users, fearful of overdosing on heroin, might be instead turning to meth.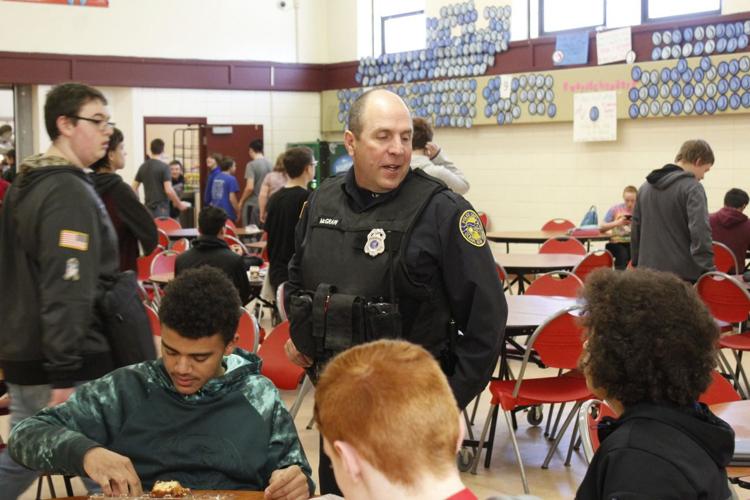 2) School safety highlighted after Parkland
School safety is always on the minds of educators, parents, and police, but the issue came into tight focus following a February high school shooting in Parkland, Fla.
The deadliest high school shooting in U.S. history reignited the national debate over gun reform, but also increased discussions about what can be done at the school level.
Locally, the New York State Sheriffs' Association requested funding in the state budget for at least one armed school resource officer at every school building in the state, while Cattaraugus County Sheriff Timothy Whitcomb and Assemblyman Joseph Giglio proposed funding to secure school entrances with armed guards and metal detectors.
The Olean City School District, following a community forum and petition by teachers, added special patrol officers to its two elementary schools.
Post-Parkland discussions also led to what authorities called "copycat" threats, as numerous Cattaraugus County and Allegany County school districts went into lockdowns, lockouts and in some cases even evacuated after receiving unsubstantiated threats.
Several students, including two at Olean High School, faced criminal charges for making alleged threats.
However, students also got active in the advocacy.
Students at local high schools throughout the area participated in some form of the first nationally coordinated effort of a student-led movement for gun control about a month after Parkland.
Some local students explicitly called for gun reform, while others protested silently and some simply memorialized the victims. At OHS, students held an assembly aimed at fostering a more welcoming school environment.
3) Community rallies for OGH to keep STA
Olean General Hospital's decision to replace its longtime anesthesia services provider Southern Tier Anesthesiologists set off a vocal — but unsuccessful — community effort to push hospital officials to reconsider.
Following OGH's announcement in August that Buffalo-based Great Lakes Anesthesiology would take over anesthesia services at the end of 2018, STA supporters started a petition, picketed outside the hospital and held a rally in Lincoln Park. Even the Olean Common Council adopted a resolution asking OGH to renegotiate with STA.
Supporters of STA expressed concerns about more physicians and professionals leaving the area, as well as fears that even more changes are coming under OGH and Upper Allegheny Health System's new parent company, Kaleida Health.
OGH officials said the switch to Great Lakes will save the hospital, which operated at a loss of $3 million in 2016, "several million dollars." After the initial announcement about Great Lakes being awarded the contract, OGH reopened negotiations with STA and STA lowered its bid, but the OGH Board of Directors said that the "remaining gap was just too great."
STA President Dr. Stephen Carlson said that STA offered to match Great Lakes' offer, but that "it didn't seem to be received by the hospital."
Neither side was willing to disclose the exact figures of STA and Great Lakes' proposals.
STA's six physicians and two certified registered nurse anesthetists reportedly found new jobs in other communities from as close as Coudersport, Pa., to as far as Florida.
4) City cleans up dilapidated houses
It was a year of tearing down in Olean.
But it's for the better, officials report, as 18 abandoned houses were set for demolition by the end of the year by the city, the Cattaraugus County Land Bank, and others.
Following years of population loss — from 24,000 to 14,000 in 50 years — many properties have been turned into rental units. Combined with an average age of well over 100 years, it's proven to be expensive to maintain many units, with dozens going up for tax auction annually.
In 2016, the city took title to 13 properties that were in such poor condition, they did not sell at auction. It took more than 19 months, but eventually this year many of the properties were sold or the houses demolished by the city.
One such sale — for $1 to nonprofit Rural Revitalization Corp., led to the demolition of 1210 Reed St. for a community garden. Others were purchased by neighbors who would take on demolition costs, while one was sold for rehabilitation.
But there's more work to be done. Several demolitions are set for January, while city officials hope to keep working with the land bank, neighbors and nonprofits in cleaning up many of the city's older neighborhoods.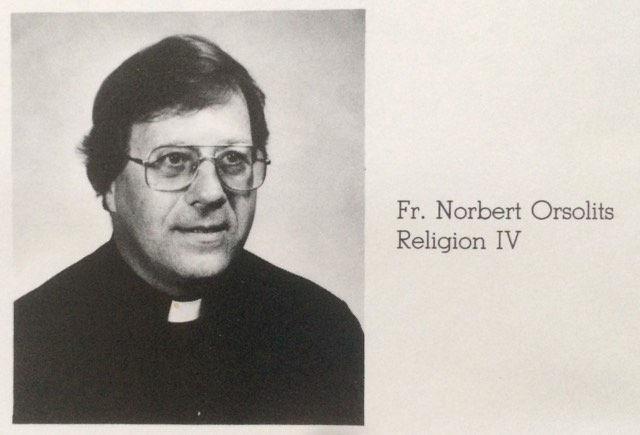 5) Buffalo Diocese engulfed in clergy sex abuse scandal
A February admission by a former Olean priest that he sexually abused "probably dozens" of teenage boys decades ago set off a clergy sexual abuse scandal that has rocked the Catholic of Diocese of Buffalo.
Numerous priests who formerly served in the local area, including at places like the Basilica of St. Mary of the Angels, Archbishop Walsh High School and St. Bonaventure University, were identified by the diocese as having been credibly accused of abuse, while a few current local priests were placed on leave for allegations.
Buffalo Bishop Richard Malone refused widespread calls for him to resign amid criticism of his handling of clergy allegations, which was the subject of an October episode of CBS' "60 Minutes."
It's not just news outlets looking into the scandal. The U.S. Attorney's Office in Buffalo has subpoenaed Buffalo Diocese for a probe focused on the alleged trafficking of minors across state lines, while the New York State Attorney General's Office is leading a statewide investigation into clergy abuse, with a particular focus on the Buffalo Diocese.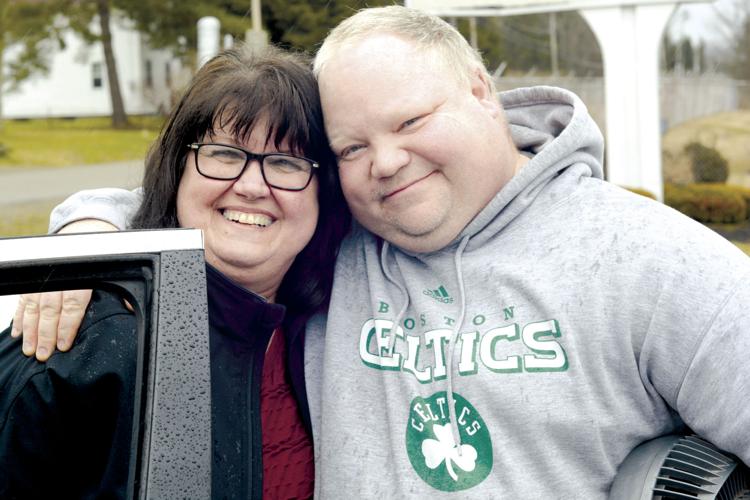 6) AVX in Olean, Dresser in Wellsville set to close
Firms that took the Southern Tier deep inside the earth and out to the stars said goodbye this year.
Olean Advanced Products, which for 75 years made capacitors and other electronic components, closed its doors March 29.
Officials at the plant said in April 2016 that operations would stop in early 2017 in a corporate consolidation by parent company AVX, with officials planning to shift Olean's operations to its headquarters in South Carolina, but the official notification of closing came the day after Christmas 2017. Once employing more than 1,000 workers, the firm last employed 67 in Olean.
"We've been a great family together," said Pam Myers, whose job was to stamp the markings on the capacitors. "My sister has 40 or more years, so this is going to be a difficult transition."
Siemens announced it would close its Wellsville facility making steam turbines by 2020. In February, it was announced that 250 workers would be out of a job by 2020 as Curtiss-Wright would buy the plant on the north end of the village and transfer work to North Carolina and other facilities.
Following the announcement, politicians from the local, state and federal levels urged Curtiss-Wright to keep the facility open, but were rebuked by the company.
Meanwhile, company officials reported that some work from closing Siemens facilities would come to the Dresser-Rand plant in Olean.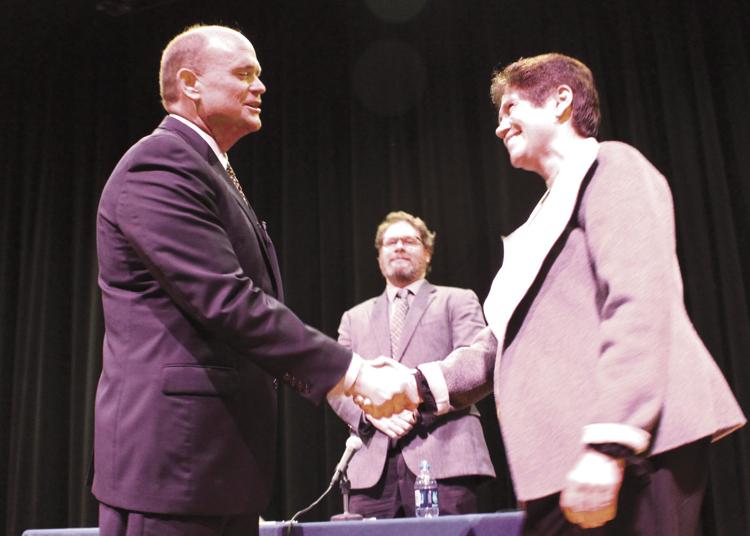 7) Reed, Mitrano face off in midterm election
Rep. Tom Reed, R-Corning, faced Tracy Mitrano, a former information technology director at Cornell University, in a hotter-than-normal November midterm election that highlighted this year's heightened national political tensions.
The local Democratic field was jammed with eight contenders in January for the congressional seat, with it barely narrowing down to a five-way primary by June.
Tracy Mitrano's campaign was politically jostled a few times in the crowded field. She apologized June 14 for campaign workers taking Reed campaign signs in Corning — the tie-dyed signs were marked "Extreme Ithaca Liberal," a favorite descriptor of Reed's for Mitrano throughout the race.
After Mitrano came out as the primary winner — after absentee ballots gave her the lead over a razor-thin margin of 26 votes — she lost to incumbent Reed in the Nov. 6 election, 53.7 percent to 43.9 percent.
Just over a week after the midterms, Mitrano had announced she hopes to face Reed again in 2020.
In December, elections officials reported that more voters went to the polls this year than in any recent midterm election. Big picture, the state Board of Elections reported voters statewide turned out by the largest percentage in a gubernatorial election since 1994.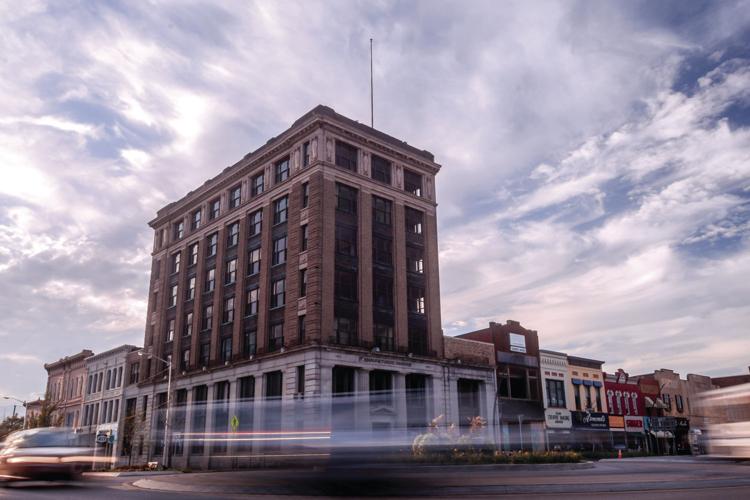 8) $10 million in DRI funds awarded
After months of marathon meetings, public hearings and a long wait on Albany, the city learned what projects would receive funds from the $10 million Downtown Revitalization Initiative announced by the state in 2017, and which ones would be left to fend for themselves.
A dozen projects — a fraction of the dozens originally floated for funding — received shares of the award.
Projects ranged in award from $2 million for the long-vacant Manufacturers Hanover building to be converted into retail, housing and a hotel to $100,000 to help finish up the renovation of 319-321 N. Union St. About half of the projects included public projects, like Walkable Olean Phase 3 along East State Street, upgrades to Oak Hill Park and streetscape projects on West State and South Union streets.
Working from November 2017 to March, a local planning committee made up of government officials and leaders from business, nonprofit and other sectors led with the help of a consultant group to develop a strategic investment plan for the DRI area, selecting 23 projects to send to Albany for final approval, which came in July.
While construction has not begun — one recipient reported it could be three years before seeing any reimbursements — officials are confident the grants will do as advertised.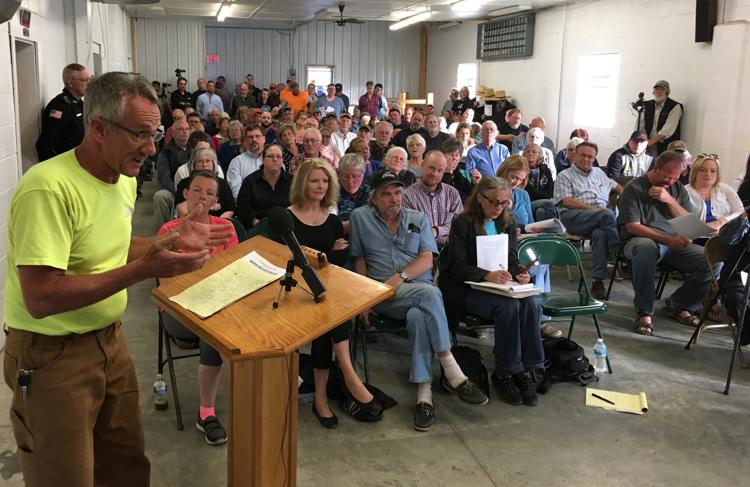 9) Farmersville wind turbine project creates turmoil
A proposed Alle-Catt Wind Farm in northern Cattaraugus and Allegany counties sparked controversy this year, with locals split over environmental issues and host payments.
A public meeting called by the Farmersville Town Board May 7 drew nearly 200 people to discuss the project, which would bring 120 turbines in the towns of Centerville, Rushford, Freedom and Farmersville, as well as Arcade in Wyoming County. Nearly the same number of community members attended an October public hearing on the matter.
Some favored the economic benefits of the project, as it was set to provide $7 million in local benefits a year from individual leases, property taxes, payment in lieu of taxes (P.I.L.O.T.) agreements with Cattaraugus County and affected municipalities, school districts and fire districts.
However, many were concerned about noise, the impact on the environment, and possible unhealthy effects of vibrations caused by the structures. Opponents, including groups Farmersville United and Freedom United, have asked to place stricter limits on the wind turbine setback and noise level.
The Freedom Town Board approved a wind turbine law July 18 which was approved by Cattaraugus County, but county officials later withdrew their support. In the meantime, Freedom United has filed a lawsuit in state Supreme Court in Cattaraugus County, seeking to have the law ruled invalid.
Invenergy, the developer of the proposed 308 megawatt wind farm, filed a formal Article 10 application with the New York State Siting Board on Dec. 19.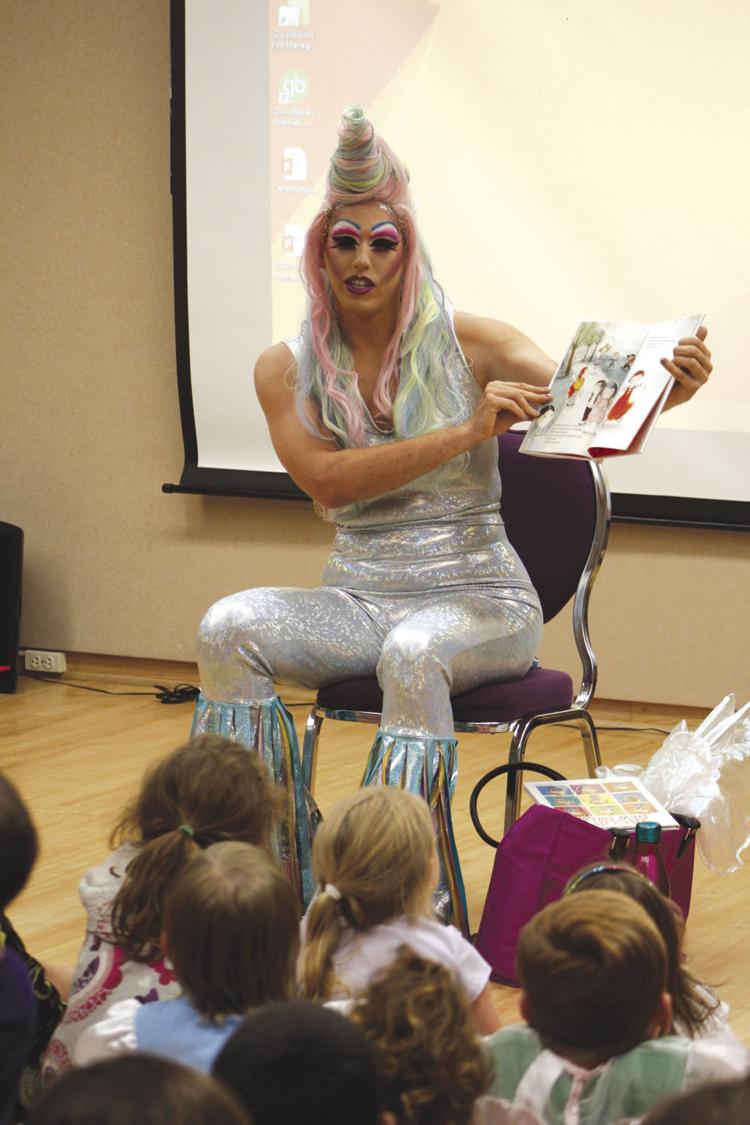 10) Olean library drag show creates waves
One of several LGBTQ-friendly events hosted by the Olean Public Library in June inflamed a local debate over when it is appropriate to introduce children to the concept of gender and drag, with its effects reverberating to the city's school.
Flo Leeta, a Buffalo-based drag queen, hosted a a Drag Queen Kids Party at the library June 20. The roughly 70 children who attended the event seemed to enjoy themselves while more than 100 supporters stood outside the library with rainbow-colored attire.
Library officials accepted the Outstanding Library Program of the Year award for the event Sept. 20 — an award never before presented to a Cattaraugus County library before — from the Western New York Library Resources Council.
But many community members expressed anger or frustration at the program, including a Pennsylvania leader of the National Socialist Movement, a small group of protesters at the event and many more online.
The event's effects continued after a Facebook post made by the account of one of Olean City School District's Title IX compliance officers, Marcie Richmond, was widely shared. It said "gender identity issues are directly from Satan" and that children "should not be exposed to that at such a young age." In response, a group of about 25 community members attended a tense OCSD Board of Education meeting to demand action be taken.
Officials announced Richmond would no longer be a Title IX compliance officer. Also, a public forum was held July 2, during which the idea for the district's new Equity and Inclusion Committee — made up of students, parents and community members — was formed.